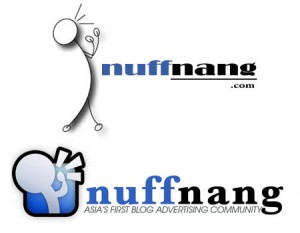 About 2 months back, I posted up a nuffnang ad on my blog, and with reasons explaining why I felt the need to advertise. The guys from Nuffnang were pretty stand-up characters and I felt like I could trust them, so I begin to post Nuffnang ads and monitor that over time.
Unfortunately the results haven't been so good, and after some reflection I decided not to port over the nuffnang ads when I migrated the blog over to a new hosting provider. It's important to recognize that your experience with Nuffnang could be different, and I have no doubt that they do contribute significantly to some bloggers, but for me the relationship just wasn't going anywhere and I wasn't really getting any value out of the ads. So when I migrated my blog from Nearlyfreespeech to WPWebHost I decided not to port over the Nuffnang advertising widget–and here's why?
Nuffnang Ads weren't paying that well
Of course, I'm not a prominent blogger, and I don't get that many hits, However, I felt my traffic was worth far more than the Rm2.75 that Nuffnang gave me. I only qualified for the Cost-Per-Click campaign, rather than the Cost-Per-Unique-View campaign, and the total payout for the Cost-Per-Click campaign was pretty bad.
Just to give you an idea, from Aug-20 till Sep-16, I had 7778 Unique views and 9783 Total Views. That's not much of course, but in that same duration I received Rm0.75 in payment. Yeap, 75 cents!!
Working linearly, if I got 700,000 views a month I would get just RM75 per month from the Cost-Per-Click campaign. If you get that sort of traffic, you're probably spending more than Rm75/month on hosting charges.
So obviously the money is to be made in the Cost-Per-Unique-View campaign or the Sponsored Post, unfortunately in the two months I was with Nuffnang I received neither :(, hence I was only Rm2.75 richer. That didn't even cover my trip to KL to meet up with the guys from Nuffnang…haha!
Nuffnang Ad Earnings Breakdown
While it is quite embarrassing to break down a number like RM2.75, here's the numbers: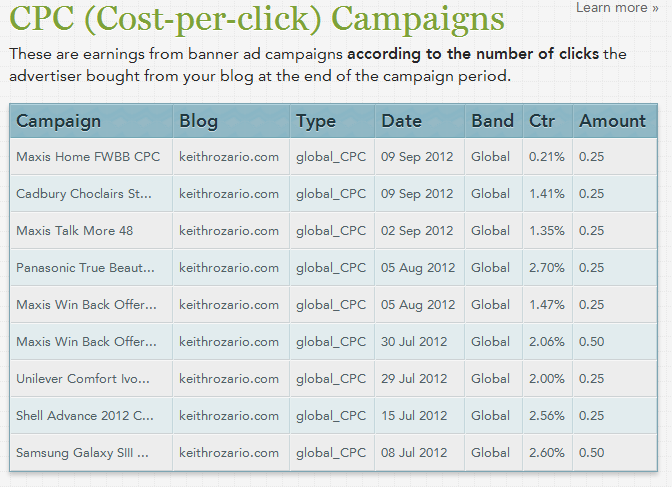 So by far the largest contributor to my blog is Maxis–I wonder how they feel about that. 
I'm not exactly Maxis biggest fan
, and I have given them a lot of stig for it, but they're contributed Rm1.25 to me. I was thinking of doing a little victory dance over a Maxis Logo, until I realized that my monthly Maxis Bill is well over 100 times that amount. I must also point out, that while I complain about Maxis a lot, I was recently enlightened at how good they're data coverage and I must say they've got their core telecom offering –spot-on perfect.
Following up is the Samsung Galaxy S3 promo, which is good, cause I'm a huge S3 fan, so it's good that I'm supporting brands I'm happy with. It's worth to point out that these aren't personally choices, but assigned by the nuffnang automatically.
Also noteworthy, is that Shell gave me RM0.25 for advertising–and if you've seen my LinkedIN profile you'd know I work at Shell. So I technically received a 25 cent increment on my salary in July. I'm just hoping my real increment would be significantly better. (MUCH BETTER!!)
Finally rounding it up is Unilever and Choclairs, I'm not sure what they're doing advertising on a Tech blog, but if you're from Unilever or Cadbury–thanks for the 25 cents!! I probably couldn't buy a piece of Cadbury chocolate with that amount–but it's the thought that counts.
Nuffnang Analytics aren't that good
If you benchmark the Nuffnang Analytics against Google Analytics, we're talking some serious difference here. It's almost like comparing Man United and Liverpool (psyche!!)
Google Analytics let's you store data nearly forever, Nuffnang drops the data at the end of the month. Google let's you view the location (up to the town) and browsers versions of your visitors, it let's you look at page speeds, and avg. time on pages. Google let's you look at the keywords that drive traffic to your site and even an SEO report to look at impressions and CTRs on Google. Nuffnang have none of these or execute them quite badly.
I guess Nuffnang is a blogging platform and advertising space, not an Analytics offering, so they track only what they're interested in–but Nuffnang or not, you definitely need Google Analytics, and don't even bother with Nuffnangs, it's not going to give you any real analytics.
Nuffnang Analytics and Nuffnang Ads are the same
Nuffnang run both their Analytics (the ability to track the traffic to your site) and their ads from the same piece of javascript. Now that sounds very efficient, since you can perform both the analytics and ad from the same piece of code, but there is downside. If the user visiting your site has an ad-blocker to block ads, it's going to block your Nuffnang Ads–but it's also going to block your Nuffnang Analytics as well (because they're the same piece of code). That way you won't have a true sense of just how well (or not so well) your blog is doing.
Google on the other hand, run AdSense and Analytics on two separate pieces of code. That allows users to block the Google Ads while still submitting data to Google Analytics.
That being said, some users use full-blown Javascript blockers which block all Javascript on the site. Hence making both the Analytics and Ads useless.
I'm guessing some of this of course, but I did notice a significant discrepancy (10%) in the Nuffnang Analytics and the Google Analytics, and I think Ad-Blockers are the reason.
Conclusion
You might call it sour grapes or just downright ranting, I was really hoping to taking my blogging to the next level–but alas, somethings were not meant to be. I think the guys at Nuffnang are doing a good job at encouraging the Malaysian blogging community, and they're adding a lot of value to some bloggers. It's just that, personally, I never felt connected to the Nuffies, and it just didn't work out for me. I'm not discouraging you from trying Nuffnang, but I hope I provided a realistic view of what it will be like when you place Nuffnang Ads on your blog.
I may use Nuffnang again when my traffic increases to see what happens, or I may switch to Google AdSense. Watch this space, but in the meantime if you're looking for an honest review of Nuffnang from a tech blogger, well you've found one.