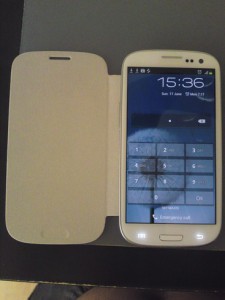 Finally after a long long wait, I managed to get my Samsung Galaxy S3 from Maxis. I got the phone last Wednesday and now after just 5 days with it, I have to say — best Rm999 spent EVER!
For those of you still curious as to how I got it for Rm999 when I recently complained about Maxis advertising a "while stocks last promotion" as a "4 day long promotion", here's a nifty little piece of information that isn't widely shared, Maxis is STILL offering the Samsung Galaxy S3 for Rm999 but only to Maxis One Club subscribers, you'd still need to subscribe to the Rm68 data plan which brings with it a good ol' 3GB of mobile data, but any smartphone needs a data plan anyway. The maths is simple, you'd need a minimum Rm48 data plan which is for 1GB/month, so the difference between the Rm68 and RM48 is Rm20/month. Over the 2 year contract, that's a Rm480 difference, the phone price itself is nearly Rm400 cheaper. So might as well, if you ask me.
However, I'd also like to share the story of how I came across the phone, as most avid readers of my blog know (do I even have 'avid' readers?) that I've been wanting the Smart Phone for some time, and I was excited when Maxis launched the S3 for just RM999. I rationalized that I'm never going to get a smart phone this powerful for such a cheap price, so I rushed over to my nearest Maxis center, only to be told that the phone was no longer in stock AND I couldn't book it. Needless to say, I was pretty pissed.
So I wrote a short blog post about how I was annoyed at it, and even linked to facebook post of other Maxis customers getting annoyed. Shortly after the blog post went live, I was contacted by Maxis Customer Relations with the following email:
Good Day Keith,

Firstly, please accept our apologies for the poor experience you were subjected to in regards to our Samsung Galaxy S3 special promotion.

Please provide me with your contact details if you are still interested in getting the Samsung Galaxy S3 and I will make the necessary arrangement to get a stock allocated for you.

Thank You

Joe
Maxis Customer Relations Unit.
I was delighted for 3 reasons, firstly about getting the phone, secondly about Maxis actually checking up on my blog and thirdly that Maxis actually took the initiative to contact me. All in all, I was really pleased.
I replied the email on a Saturday morning at 10am with my details and less than 20 minutes later, received a call from Maxis that I could walk into any Maxis center and get the Maxis One Club promotion. Apparently, anyone with a monthly commitment of more than Rm150/month automatically gets enrolled as a Maxis One Club member and I was one already, so I was entitled to the offer. Awesome!!
Feeling overjoyed (quite literally) I walked into my nearest Maxis shop, only to be told that– they don't take bookings because they have limited stock. WHAT?!
Of course I was frustrated. So I sent a quick email to Joe from Maxis at 12:08am, Joe replied he was on top of things at 12:10am (does this guy ever sleep?). The next morning, I get a call from Maxis saying they'd help me book the phone (this was Monday), on Wednesday I get a call from my local Maxis Center saying the phone is ready to be collected and by Wednesday afternoon, the 17th of June 2012, I got my very first smart phone–WOO HOO!!
Now, I could continue to complain about how getting a phone from a mobile operator shouldn't be this hard, but instead of focusing on that, I'd prefer to focus on the fact that Maxis actually went out of their way to help me. I was quite pleased with the final result, but there definitely was room for improvement. So here's saying something I thought I'd never say — Thank you Maxis 🙂
Overall the S3 feels magically, and I absolutely love the shape of the phone. It feels as solid as my wife's Iphone4 and I prefer the bigger screen and slimer build of the S3 (I'm also a bit worried my wife may confiscate my S3 to replace her 'aging' Iphone). I went out and bought a handphone case that has a built in cover, the guy over at the shop told me it was an original samsung accessory and the only accessory so far that requires removal of the back panel of the phone. That thing cost me a whooping Rm129 (damn!).
I'm still getting used to the phone though, but overall I'm liking the experience. Like I said, best Rm999 spent EVER!
If you are on the maxis one club, (trust me almost any subscriber is probably on the maxis one club already), you too can get your S3 for the low low price of Rm999 from Maxis.
Here's a photo I took in Penang using the Galaxy S3, I uploaded the photo to my Google Drive and sharing it to the public here (it's a bit big though), click here to view.