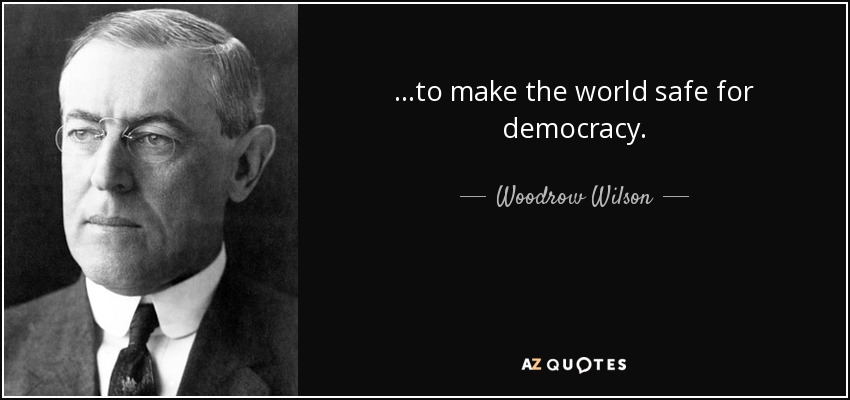 On April 2nd, 1917, the President of the United States of America addressed an extraordinary session in congress, asking them to authorize America to declare war against the central powers in World War 1.
Across the Atlantic, the European continent had been devastated by nearly 3 years of bloody conflict. Regardless of who started the war, President Wilson was sure the war was at it's tail end and he knew that if America stayed a neutral observer any longer, it might not get a seat at the table to discuss peace terms.
President Wilson had an agenda to setup the League of nations, to ensure that such wars would never be waged again, and this would truly be the war to end all wars.
Sadly, with hindsight we know the truth, that America would reject the League of Nations, and the peace treaty at Versailles would act more as a 20 year armistice than an indication of true lasting peace.
America was a pale shadow of what is it today. Britain was the richest country on earth and had the biggest Navy while Germany had the best industry and the biggest army. America was a sleeping giant, but one awoken by WW1 and one that has never slumbered since.
But what made her go to war?
What compelled this great nation, whose on founding fathers warned would never go abroad in search of monsters to destroy, to take up arms and cross an ocean to wage war?
Many think it was Lusitania, some suggest the Zimmerman telegrams, but those were merely side distractions to the true cause of America's involvement. The true reason for her involvement and ultimate victory is found in one sentence from the speech of President Wilson on that fateful day–The world must be made safe for democracy.
It wasn't that America was trying to impose democracy on Europe or Asia, rather it was merely making it safe for democratic principles to thrive in the face of despotic monarch and militaristic dictators. Contemporary American foreign policy fails to distinguish between making the world safe for democracy and imposing democracy.
America can never please her critics, get too involved and she's accused of meddling in affairs, while staying neutral and distant invites the critic of indifference to human suffering.
But not all dangers to democracy come in the form of dictators with armies at their disposal, and in one sense America continues to make the world safe–while the rest of us remain blissfully unaware of her efforts. Continue reading Making the world safe for Technology →