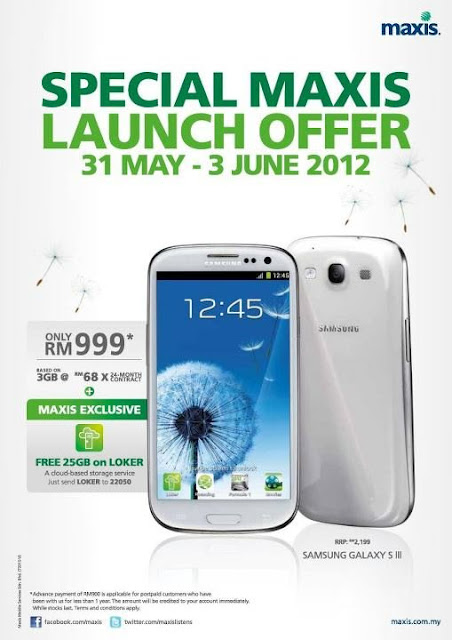 First off, let me come clean and say that I'm not really to please with Maxis today. I drove all the way to my local Maxis store on Friday to get an S3 at the offer price of Rm999, the phone was out of stock (which was acceptable for the hype around the phone) but I was told I couldn't even pre-order or book the phone. Meaning, that when if I eventually get the phone — probably only after this weekend, I would have to pay the regular price of RM1399.
Now, I'm fine with time-limited promotions, my beef with Maxis is that they didn't advertise it as such, but rather they advertised it as a "4 days only"  promotion. If the promotion is only on for 4 days, and you know full well you don't have enough physical stock for the 4 days, then it is not a "4 days only" promotion–it's a "while stocks last" promotion.
This of course isn't helped by the fact that you can't book the phone at the promotion price, and it's made even worse by the contradicting statements given by the Maxis Facebook page, and what the people on the ground are telling you.
The Maxis facebook notes page reported on Sunday:
We are receiving & registering names & contact details for those who remain interested in the RM999 Samsung S3 offer within our operational outlets for today, being the last day of our offer.
Of course this wasn't what I was told on Friday, and from the facebook post it was clear I wasn't the only one confused by the offer, by just reading the comments on the facebook page here, you can sense that a lot of people weren't happy with Maxis and were told different things on different days by different people.
I fully understand that in hyped up promotions like these, you can't please everyone, but reason people aren't pleased isn't that they didn't get the physical phone or even the promotional price. It's that they felt cheated by
Maxis claiming to offer the promo for 4 days, knowing full well they didn't have enough stock for all 4 days throughout Malaysia.
Claiming that you couldn't book the phone for all but the last day of the promo, leaving people who tried to book on Thursday, Friday and Saturday disappointed
Even after Maxis announced they would accept bookings, customer service staff at Maxis centers weren't accepting bookings till customers had to show them actual screenshots of the Facebook announcement
It was not even clear to people who 'booked' their phones if they were getting the RM999 offer or just the regular RM1399 (link here)
Evidently, some people were trying to make a quick buck by selling Maxis Que numbers on the Lowyat forum, fortunately it appears no one took up the offer.
Overall I have to say, I wasn't a happy Maxis customer. This could probably be a case-study on how NOT to execute a phone launch. 🙂