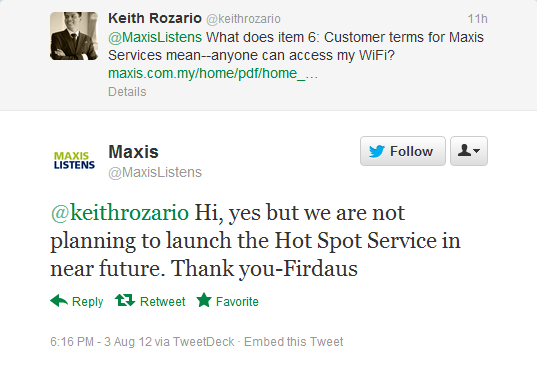 Imagine buying a house from a housing developer who insist that even after you've bought the house the developer will be allowed access to your downstairs bathroom. So that even after you've bought the house and moved in and got that nice kitchen cabinet design you've been eye-ing, the developer can still access your downstairs bathroom, no matter what. Worse still, the developer then decides to turn your downstairs bathroom into a public toilet.
Sound crazy right?
No developer would ever convince me to buy a house under such conditions, but Maxis seem to think they can push through something very similar in their Maxis Fibre to the Home (FTTH) Agreement. Before you sign up for your Maxis Home Package, you're presented with a single page document to sign. The document basically states that you agree to the Maxis terms and conditions (T&C). A single page document sounds rather minimal, until you realize it's a single page of 2955 words. Maxis squeezed 2955 words onto one page through a straightforward method of reducing the font size, basically making the agreement even harder to read–but you should read it, because point 6 of the Customer Terms for Maxis states:
6. You accept and acknowledge that Maxis reserves the right to leverage onto your residential WiFi modem to cater to the Maxis Hotspot service which may be accessible by the general public who are subscribed to the service. The Maxis WiFi Hotspot service does not increase your available bandwidth and will not impact your internet quota nor will it cause degradation of the Service performance, security or risk issues to you.
The only reason this came to light, was that Maxis FFTH users realize that they had two Wi-Fi SSIDs being broadcasted from their routers. Their own SSID and a 'Maxis' SSID. This caused Lowyat Forum member Jerry Hean to point out the terms in the agreement.
That's not good. Basically Maxis is opening up your Wi-Fi modem to act as their Hotspot service which 'may' be accessible by the general public. So my analogy of a public toilet operated out of your home wasn't too far off the mark. Maxis hope that they can use your Wi-Fi modem, to broadcast a Wi-Fi signal for Maxis Hotspot services–other peoples traffic will flow through your private modem.
Having public web traffic flow through your web modem isn't the best of cases. Worse still opening up your router for public access, brings criminals one step close to your private network. This isn't acceptable to any degree. I'm not entirely sure what mechanism they use to protect the Wi-Fi signal, but I would be terribly uncomfortable with anyone accessing the internet through my private modem.Plus, a while back I posted about how Maxis couldn't even get their SSL certificates to work properly, I wonder if they have the capability to pull this off.
Maxis have confirmed that they have no plans to open a hotspot service in the near future, that make sense since you need a critical number of routers before they can provide the hotspot service required. However, in the tweet above, they do confirm that was the intention of the item (6), to me I would think it would be a good reason to think really long and hard before getting Maxis Home Fibre.