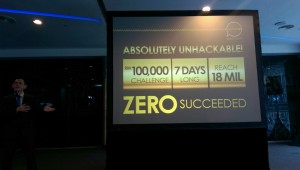 Two weeks ago, Lowyat.net published a 'challenge' to their readers, one that would supposedly pay a cool RM100,000 to the winner.All you had to do was decrypt an AES-256 encoded blob of code (more accurately referred to as ciphertext).
As expected, no one won.
Because breaking that 'military-grade' encryption is beyond the capability of most normal human beings, and certainly not worth a paltry RM100,000 that was being offered. It's the equivalent of offering 50 cents for someone to build a rocket capable of going to the moon. In fact, Rm100,000 is exactly the cash prize celcom offered for it's cupcake challenge, because baking cup-cakes and breaking 'military-grade' encryption are the same thing.
Once the challenge has expired, Celcom conveniently launched their new zipit chat application, which surprisingly used AES-256 encryption as well, and more importantly they released some statistics of a 'hackerthon' they conducted in which 18 Million people viewed the challenge, and 17,000 registered to participate but none succeeded.
OK, so while there was no official announcement from Celcom to tie the original lowyat challenge to their new zipit app, it was quite plain for all to see.
So let's go into why this upsets me.