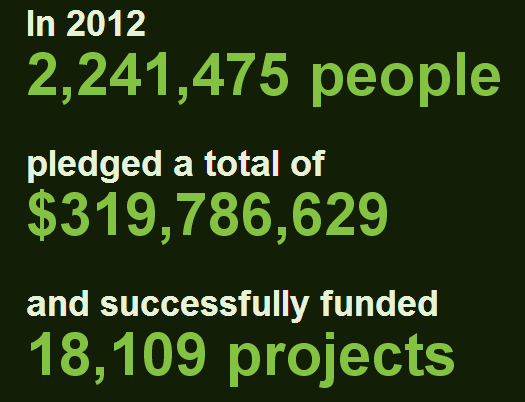 Crowdfunding is exploding, and kickstarter is exploding with it.
In 2012 alone, Kickstarter successfully helped start 18,109 projects, from pledges of nearly 300 million. That's a lot of cash from just random strangers hoping to help someone else realize their dreams, or to help the public in general.
Noteworthy projects include an open-source geiger counter to detect radiation levels in Japan, a kickstarter initiative that released recordings of Classical music to the public domain and funding a Bus Stop in Georgia.
Closer to home, my friend Dev didn't manage to kickstart his idea of Onlyheart (although he's launching it now without kickstarter funding), I helped Igor successfully fund Iggyfied and a Malaysian Author successfully kickstarted his book–and it's now on sale in MPH.
What do you think of Kickstarter? Have any ideas that need funding?
*Cards against Humanity also deserves a mention