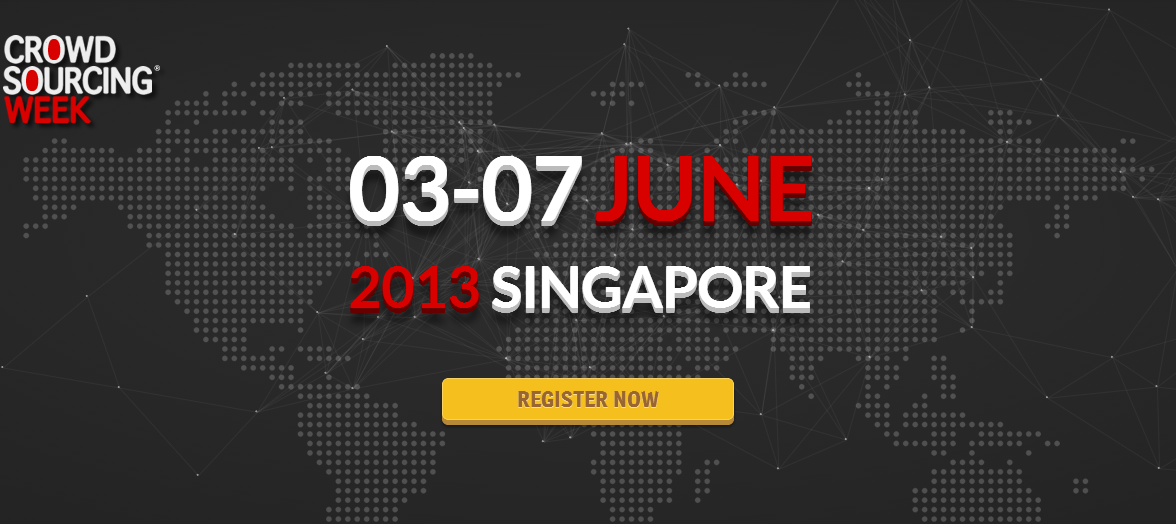 Crowdsourcing has come to the Asia Pacific region–and it's come in a big way. A couple of months back, I was contacted by the people organizing Crowdsourcing week in Singapore to attend the event, unfortunately due to personal commitments I was unable to make it–bummer!
Crowdsourcing week is a great idea that brings a whole bunch of great speakers including Jennifer Gustetic, an executive at the "Challenges and Prizes" program in NASA, Stephanie Grosser from USAID and Sean Moffit from Wikibrands. It's also one of the first events on crowdsourcing that I know off occurring in the Asia Pacific region and if you're in the neighbourhood I can almost guarantee it'll be worth your time attending.
So if you're interested in listening to topics like "Everyone can be rocket scientist: Prizes and Challenges at NASA" from someone working in NASA, or "Equity Crowdfunding: Next Big Thing" from someone working in the crowdfunding platform crowdcube.com, then head on over to registration page, and register yourself.
Oh, and by the way, if you think the tickets prices are a bit too expensive, try the promo code "KE3130" for a 15% discount for tickets to crowdsourcing week–on me!!
Or for further browsing, try checking out the Crowdsourcing week agenda here.
Have a good time folks–pity I can't join.
Just as a shameless plug, you can check out my two post on the crowdsourcing week website below:
When Crowdsourcing doesn't work