Alright, so my first sponsored post. Although it's not much, somebody gotta pay the bills, and as long as that somebody isn't me — that's awesome.Technically this isn't my first sponsored post, I wrote a post some time back about Unotelly, but this is the first time I'm getting paid real, actual, hard-cold cash.
So what's the post about?
Well it's the new Samsung ATIV PC promotion by Celcom!!
For just RM1,758 you can get a the wonderful tablet pictured above from Celcom. You're probably wondering why would anyone spend that much on a Windows tablet when you can get an iPad or a Galaxy Tab for the same price–until you realize it's a Windows 8 tablet–and then you start wondering again. Until it hits you that this isn't really a tablet, it's 'almost' a full fledge PC–except with an optional keyboard. This is what Microsoft designed the Windows 8 ecosystem for, and this is Samsung best interpretation of Microsofts vision.
Don't believe me, well would a normal tablet have the following connection ports:
You've got just about every sort of port and plug you could possibly want out of a tablet and then some, this unit working with a full-sized USB 2.0 port, SIM card port, microSD card slot (for 64GB more storage than you get standard inside (also 64GB)). You get two microphone holes (built-in, not for larger microphones) that bring some noise cancellation, and there's a microHDMI slot long the left. (Slashgear)
No. You'd be lucky if the next iPad had just 1/2 of what the ATIV offers in terms of ports. For more info on the Samsung ATIV, check out this review from Slashgear.
The Samsung ATIV PC ain't no simple Tablet
Most people talk about the eco-systems and mention that Windows has no real eco-system to boast about compared to both the iOS and Android camps. That's true.
But what people forget about the ecosystem they've got at home to begin with, every single office I know of provide Windows based machine to their staff, and with the exception of the 'creatives' chances are you chose a Windows laptop over a Mac Book the last time you were in the market for a mobile computer. So chances are your home ecosystem is already on windows or has some windows based machines.
Everything works a lot better when everything you own is on the same platform, whether it's Windows or Macs, and if you've got a windows PC or laptop at home–you might want to give Windows tablets a look–and you might wanna start with the Samsung Ativ Smart PC.
Celcom Samsung ATIV PC packages
Well besides the usual jamboree, it's pretty standard for Celcom, the 6GB package with a 24 month contract means you spend 'just' Rm1758 for the PC. That's quite alright, but if choose a lower quota and shorter contract you'll end up paying more–inching closer to the RM2,499 RRP for the device (without any contracts).
To experience the Samsung ATIV Smart PC, head on down to the Blue Cube Sunway Iconic this 25 January 2013 and sign up with any Celcom First Data plan. Plus, if you're one of the first 200 customers to sign up you'll receive Liquipel service vouchers worth RM90. Liquipel is a process that applies a watersafe™ coating to your electronic devices to protect them in the event of accidental exposure to liquids. Sure takes a huge worry off your shoulders once you realize that an accidental water-gun fight with the children or your toddler spewing chewed up Farley Rusk on your device isn't going to ruin it. Plus I didn't want to mention it, but I know a few people who've dropped their pretty expensive devices down——the toilet bowl!!
One can only pray, they had Liquipel–and that they flushed before they dropped it in.
That's a side story though, here's the list of the Celcom packages, for more info head on to the Celcoms website to get more info on the Samsung ATIV.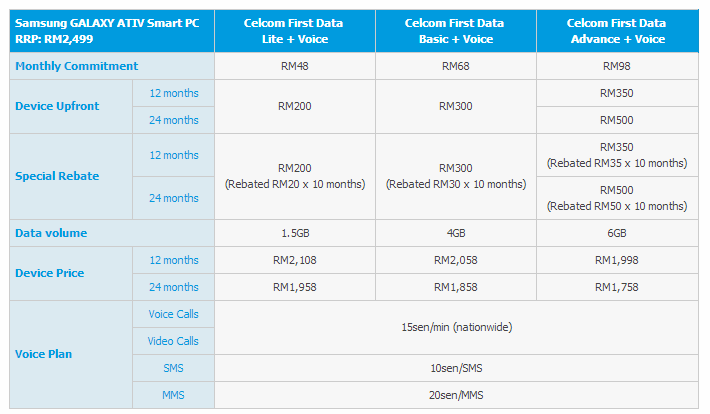 Conclusion
If you like the Windows experience for whatever reason (I'm not judging), or like something more than a tablet, then it's time to take a look at the Samsung ATIV.