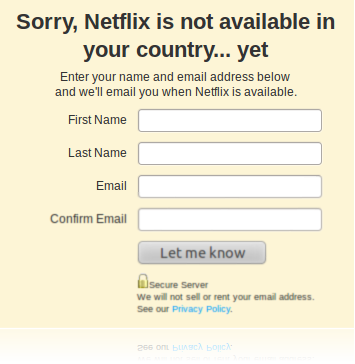 Malaysians have always been deprived of real-time video content online.
We've no access to Netflix or Hulu, we can't watch the full episodes of the Jay Leno show online, we can't watch the BBC replays of the football matches, we can't even watch videos from TheOnion for crying out loud.
Why? because NBC, FOX, Netflix, Hulu, BBC and even the Onion restrict access to this content to users from only a certain part of the world (specifically America). Americans even get to watch Euro 2012 from ESPN–WHAT?
This an entire country where football is called soccer (ugh!), and they get watch it online?!!
Now, I'm not certain as to why the Studios and Channels would not like to share this content globally, while Americans (and only Americans) get access to this great content, the rest of us, specifically in Asia-Pacific are left in the lurch, waiting for our local Cable company to have it or we resort to torrents. However, what if I told you there was a way for you to access all the great content Americans get to watch online as well, and you could do it from the comfort of your own home.
Netflix cost just USD7.99 (roughly RM30), and full access to Hulu Plus for around the same price. In fact, Hulu is free if you can live with a little out-dated content and some adverts thrown in. If you're wondering what Hulu and Netflix is, let me break it down to you based on their content.
Imagine paying just RM30 for full access to 8 seasons of Top Gear, 6 seasons of mythbusters, 5 seasons of "How I met your mother", 7 seasons of Greys Anatomy, 6 volumes of Futurama, 2 seasons of white collar, 8 seasons of that 70's show , 9 seasons of scrubs and 4 seasons of Heroes–and I'm not even done. On top of it, you have access to hundreds of movies including Iron Man 2, Thor, Kick Ass, The Expendables …even the older movies like Groundhog Day, Meet the Parents , Lost in Translation and if you really wanna go waaay back–GHOSTBUSTER!! (who you gonna call?)
Now I'm not even done with Netflix and that's JUST Netflix, and it all comes at the decent price of RM30 a month. The best part is that it's on demand, which means you can watch it in barely 30 seconds from the point you choose you. Now I have a regular Unifi connection at home, and I can vouch that its good enough for you to watch online.
How about the other stuff, do you know CBS, NBC and PBS, have entire full length episodes online? I spent a good 30 minutes watching old episodes of sesame street the other day (I spent 3 quarters of my childhood with Sesame Street). These are episodes so old, you probably can't find them on torrent anymore. I'm beginning to see why Americans are torrent-ing less in favor or real-time entertainment.
So how do you go about accessing Netflix, Hulu or the other channels? Well as I said Netflix prevents users outside of certain countries from accessing the content online. If you tried to go to Netflix you get a huge "Sorry Netflix is not available in your country" yet sign. There are multiple ways around this, but I'm only going to be focusing on one.
Unotelly DNS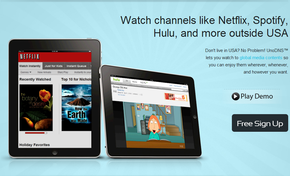 Unotelly is a straight forward DNS service that allows you to bypass all the filters online and grant you access to the glourious web content our American brothers have enjoyed but has so far eluded us Malaysians.
Unotelly promises you the ability to watch Netflix, Hulu and a whole bunch of other channels from outside the US. What's more they even offer you access to music services as well, including spotify and Rhapsody. It's a great way to get access to a whole bunch of content whether it's Video or Audio that would otherwise be available only to internet users in the US.
I'm not entirely sure how Unotelly works, as far as I can tell it uses a custom DNS to reroute you, for premium channels, Unotelly also ensures that your IP address is currently logged onto their system to ensure no one is trying to free jack their DNS system. Other than that I'm not particularly sure on the mechanics, but I do know its not a VPN connection or a simple Proxy server. That most important thing though is this — Unotelly WORKS!
Here's how Unotelly describe themselves:
Unotelly is a DNS-based system that allows to its customers to watch their favorite TV channels wherever they are, with any device they have, without restrictions. With few words, it's an online TV service that bypass geographic limitation.

Unotelly works with all the devices. PC, Mac, linux,PS3, XBOX360, Wii, iphone, ipad, itouch, androids, playbook, WD TV Live, Roku, boxee box, OpenElec, XBMC, Apple TV, Google TV, LG smart TV, Sony TV and players, Panasonic VIERA, Samsung TV and players and all rooters(sic) including DD- WRT.
All you need to do is sign up and install a small application on your PC, follow a not-so-simple procedure and you're done. Installation on my PC was quick and within a couple of minutes I was bypassing Netflix filters, after a quick sign up process (I signed up a free one month trial), I was up and running watching Netflix online.
My Experience with Unotelly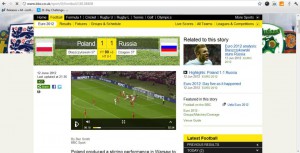 From the start I was hooked, watching episodes of Switched at Birth with the wife, and getting to finally watch those elusive BBC recaps of football games (complete with goal replays and manager commentary). I work out that I've already pay for the rights to watch these from my Astro subscription and I've watched all the irritating profitable plots adverts I can take in one lifetime, so why I can't watch highlights of the exact same game on BBC online on demand, the BBC is providing it for free to Brits, why not Malaysians?
Next I was introduced to "The Cleveland Show" and even managed to sneak a few Southpark episodes from comedy central, I came across content I didn't even know existed, like Cajun Pawn Stars on the History, its just like the regular Pawn Stars only its shot in the deep south, sort of like a cross between Swamp People and Pawn Stars. I'm a History Channel buff you know. Another bit of content I didn't know existed was Watchmen the animated series on Warner Brothers, they also had other cool animated series like Batman and Wonder Women (not that I watch Wonder Women of course)
I recapped a wonderful day with a few episodes of Americas got Talent, So you think you can dance and of course Two and a Half men. All from the comfort of home and all for free and all on DEMAND, in fact it takes around 30 seconds from the moment I pick the episode to the moment it plays.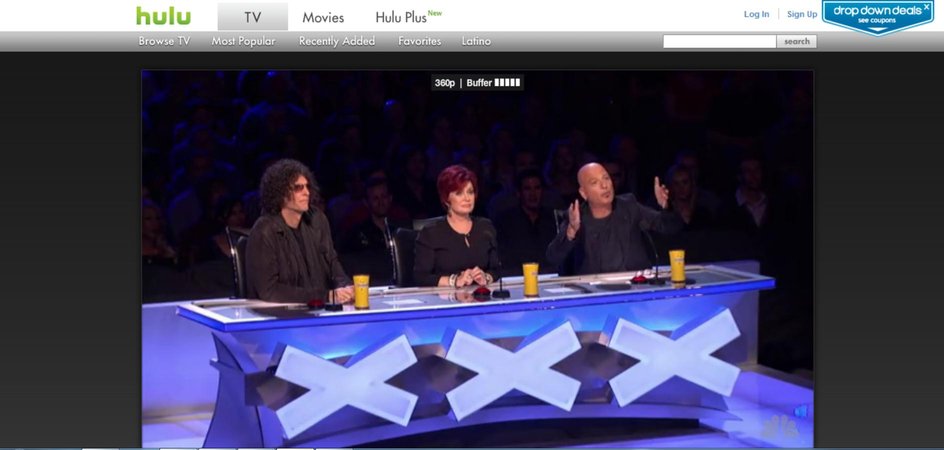 Some Drawbacks
First off, it isn't free. You can look at the list of channels here, the free channels are provided for free by Unotelly, the Premium and Gold Channels you'll have to pay extra. This is not inclusive of the $7.99 you need to pay for Netflix or Hulu once your free trial expires, but even if you combine them together it still cost just Rm60 for Unotelly and Netflix.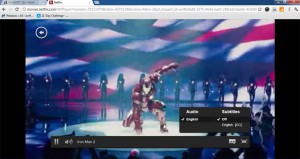 The other drawback is that you only access the channels that are in Unotellys list. Anything outside of this list and you're on your own. So if you're hoping to access other content not listed on Unotellys list of Channels you'll have to look elsewhere.
The 3rd drawback is that you need to install an application on your PC, although you can configure DNS on your router or tablet pretty easily. Depending on your IT skills this can be very easy or very difficult.
Finally some of the content doesn't work too well, particularly ESPN. ESPN is offered for free in the US but only to subscribers of the actual channel, so you're not going to be able to view ESPN content or at least I had difficulty accessing it.
It's also important for me to mention that I haven't yet tried to buy my Netflix subscription via a local credit card. It'll be interesting to see what happens after my trial expires.
Now on to the Pros
Unotelly isn't a VPN, its based on DNS technology so it'll work with any platform and any device. Ipod and Smartphones included.
Unotelly is FAST! Unlike VPN there is very little routing here.
Unotelly only works the selected channels. Now I mentioned this as a setback since you can't access other channels, but it's also an advantage. Unotelly won't communicate the wrong location details to websites like Facebook, Google or other services that you want to still think you're from Malaysia.
Unotelly is pretty cheap, while it does cost money, the Gold package comes in at a very reasonable $4.95 while the Premium is priced at around $7.95 (both in US dollars). Now for the most part you'll probably be happy with the Gold Package, so you're looking at just Rm15 for access great content.
It's a quick and fast way to view international content without having to go through proxy servers or VPNs.
Conclusion
Before I make a conclusion, I'd just like to point out that Unotelly had actually contacted me to write the review AND that I was given a lifetime pass to Premium Unotelly services. So while I hope that this review isn't bias, I want to be very transparent about this.
Unotelly by itself isn't useful, it merely enables you to access great content that would otherwise be unavailable to you. If you don't really fancy TV channels or Movies, then you'd probably want to skip this. However, I haven't met a Malaysian who doesn't watch at least one American TV series with the religious fervor of a Taliban.
So let's break it down, Unotelly is only as great as the channels it provides…but it provides some great channels including Netflix and Hulu. You also get a chance to watch football highlights on BBC live and older movies and series for very little money or even absolutely free. However, this content isn't exactly the latest brand spanking new content, so if you absolutely must watch the latest version of American Idol, you'll still have to subscribe it from Astro or torrent the episode.
However, if you don't subscribe to Astro at home, and have spare bandwidth, then paying Rm15 a month for access to great content is a magnificent deal. Also, at least you wouldn't be utilizing pirated material.
On that note, let me also emphasize that while this isn't pirate content (it perfectly conforms to all intellectual property laws) it's not entirely legal either. Firstly, the digital content you consume from Netflix is still considered entertainment and you would have to pay the neccessary taxes. Secondly, you are still considered 'fraudulent' in claiming to be from the US when you're not. In the end though–who cares? Plus, if you're not subscribing to Netflix pay package, and get everything for free , then there can be no taxes involved :).
My final verdict, Unotelly rocks, and for just Rm15 a month it's great. You can get a free access to Unotelly immediately today and access channels CBS, FOX and TruTV the trial gives you a flavor of how Unotelly works and is a great way to determine if the service fits your needs. So go out and try it!!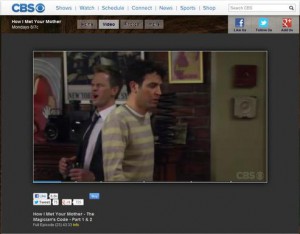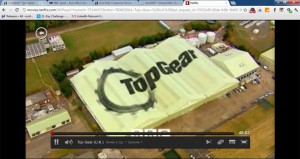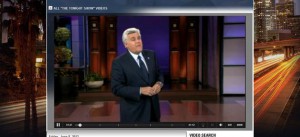 Before Unotelly: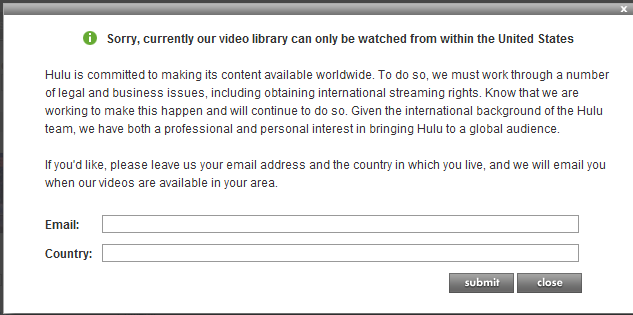 After Unotelly: