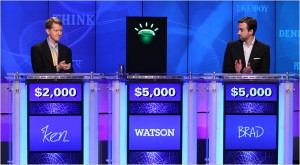 IBM have always been on the cutting edge of innovation, they've moved more becoming merely a computer company to  what is probably the first truly all encompassing technology company, they don't just make fancy gadgets or shiny tinga-ma-jigs, they make actual solutions for real-world problems.
In 1996, IBM introduced the world to Deep Blue. Kasparov met Deep Blue and wasn't impressed, he had no reason to be, he defeated Deep Blue 4-2, and walked away comfortably.
However, in 1997, IBM re-introduced the world to the 2nd version of Deep Blue (unofficially named Deeper Blue), and this time Kasparov was beaten –but not by much. Kasparov is the Tiger Woods, Pele and Michael Jordan of the Chess world, and he was beaten by a super computer with 11.38 GFLOPs of power.
In turns out though, we had nothing to be afraid off, Chess is after all a pretty simple game when you break it down, the number of possible moves are finite, together with the number of possible scenarios to play out. It's not an easy game to master, but as it turns out playing chess is infinitely easier than just plain talking.
In fact, of all the talking games, Jeopardy seems the most difficult. At the end of this post, I will make an argument to show that Jeopardy — a simple talking game — is about 6,500 times more difficult than Chess (a game we often associate with genius). Turns out Kasparov has to bow to Ken Jennings.