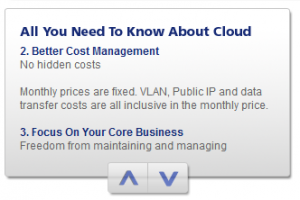 A couple of weeks back I wrote a long post on the Maxis Cloud comparing it to other IaaS providers like Amazon and rackspace. That post wasn't too kind to Maxis, and I did mention that there was no reason to use it…unless the data transfer was free.
As it turns out, data transfer on the Maxis IS FREE!!
This is a good step in the right direction for 2 reasons. Firstly, it means for high end cloud computing users that require lots and lots of data transfers, you're looking at one of a IaaS provider that gives you unlimited data transfer inward and outward. Secondly, it means that there is a IaaS provider in Malaysia, that offers something that can be considered reasonably price, particularly if you're hoping to be dealing with a lot of data transfer.
But just how much is a lot?
From my previous post, it's only when you start hitting the 300GB range that Maxis offers some competition in terms of price, that number goes up to nearly 1.2TB if you're neglecting support charges, and that's only for the RM900 range.
For the higher end range of Rm1900/month, you're looking at monthly data transfers of almost 2TB before Maxis becomes economically viable. That's a LOT of data.
To put the 2TB into perspective, that's about 400,000 mp3s being transfered every month, I'd be very surprised if the LHDN servers for the e-filing of taxes get 2TB of data transfer during tax season. So unless you have really high data transfer requirements, you might want to consider Amazon or rackspace. It's also important to note, that Maxis doesn't stipulate where you would store this data, as their machines only come with VERY VERY limited storage space.
There is some caveats though, certain regulations would force you to run your application in Malaysia. I'm thinking of particularly sensitive information like credit card authorization servers that need to be located locally, but there could be other legal requirements on personal data. I haven't been on any government projects before, but I'm also guessing that government systems that handle citizens data needs to be stored in Malaysia, once again leaving you pick from the handful of local IaaS providers.
Next, a data center housed in Malaysia 'may' translate to higher performance for local users. So if you're hoping to launch an app for just Malaysian users, there could be a case for hosting it on Maxis as opposed to Amazon or rackspace.
That being said, Maxis still isn't too clear on the support structure (at least as far as I can tell), and it's even less clear on it's other offerings. Suffice to say, you're not going to be transferring 300GB of data if all you have is the 30GB HDD offered on your cloud machine. There is nothing on the website to suggest they have a data storage offering similar to that of Amazons Simple Storage Solution (S3).
So overall, I still wouldn't jump on the Maxis bandwagon, but it's quite refreshing to see a local Telco offering unlimited data transfer on it's cloud machines. This is exciting times for Malaysia. I have to give Maxis respect for trying to innovate in this area, and although we aren't at a point where I'd recommend Maxis, I must say things are looking far better than they were a couple of weeks ago.