My wife is an avid reader (just like me!), but she reads mostly fiction where as I read non-fiction. So to save on our book bills which often exceed the RM1000 a year each, I thought it'll be great to get ourselves an ebook reader. This would not only save us money , because e-books cost less than physical books–but would allows to easily store and retrieve the books we read, which currently occupy entire shelves in our small home. Lastly, it also allows us to have books on demand, no more waiting weeks for books to be delivered from the UK or the US, and we won't need to drive out of our ways to book stores to get the books. So on her birthday, I decided to get 'us' a present–A kindle ebook reader.
Buying the Kindle
Kindle is an ebook reader from Amazon, now an ebook reader is essentially a tablet just like the iPad, but it's built for one thing and on thing only. Reading books, no angry birds here, just plain ol' reading fun.
And eventually I found a few sellers of Kindles online, where else but at everyones favorite tech forum, lowyat.net. So far there are about 3 sellers online, these include a forum users Giondori, qisahn and sambb67 (click on the user names to access the threads they're selling at).
I got mine from user sambb67, if for no other reason then a quick scan of previous customers included a 'elite' member. That's a bit of crowdsourcing for you, one of the best ways to detect fake reviews and fake scams is to check on the reviews, if reviews are given by people who've just joined within the past years and usually very very positive, it's a fake. I'm not saying the other sellers are fake, I'm quite sure all of them are genuine sellers, but sambb67 was the only  one with a elite member review. Elite members are lowyat members who've reached a certain amount of post and have been around a block a few times. So they're generally more trustable then newbie members with less than 1 year of membership.
So after spending Rm415 for a Kindle Touch, I finally got my hands on a book readers dream.
You can also purchase the kindle from the kindlemalaysia.com website, this isn't an official channel, but these guys look legitimate and will even help you with warranty claims. They do charge slightly higher than the guys at lowyat, but these guys have an actual web store, so you're paying for that as well. Plus they look to have good service.
Lastly I bought the Kindle Touch with Ads, and it cost about Rm150 cheaper than the no-ads version. There is no reason to splurge that extra bit because the Ads aren't intrusive. So unless you have a problem with money, my advice is buying the ads version and use the extra money to buy books!! I repeat–THE AD VERSION IS OK!
About the Kindle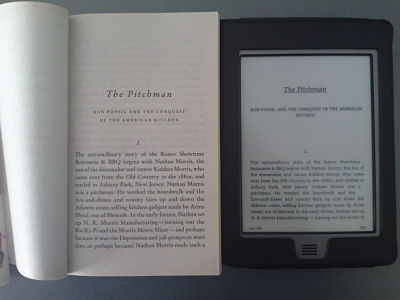 The first thing you notice about the Kindle is that it's small. It's slightly bigger than a regular paperback book, but smaller than a magazine.
The 2nd thing you notice is that the instructions on the screen isn't printed on paper, it's on e-ink. The e-ink display is absolutely awesome, it's the closest thing to paper I've ever seen, it's easy on the eyes and Amazon wasn't kidding when they said you can read it in the Sun–because you definitely can. The e-ink display looks and feels just like regular paper and I can guarantee you, you won't think you're reading a electronic display at all.
The e-ink display also promises great battery life with Amazon claiming you can go for months without re-charging. The one drawback about the display though is that the refresh rate isn't that great, and while you're switching between pages, the experience isn't all that smooth. If you're used to the smoothness of an iPad or the Galaxy Tabs, this will really start to annoy you. The e-ink display takes some time to switch and doesn't have that smooth scrolling, after a while you develop a patience for it, but it takes a while. No scrolling here, but then again an iPad isn't going to last 2 months without a re-charge and wouldn't be as easy on the eyes, pros and cons I guess.
Lastly when you carry the Kindle around you notice this thing is super-light. It's lighter than carrying around a paperback book, Amazon really went through a lot of trouble trying to make this a seamless transition from reading physical books to reading the Kindle.
Overall the device feels great and for just Rm400+ bucks it's a steal. It has to be said though that the device can be bought in the US for USD99, which is about Rm300 here. You're paying a 33% premium for the shipping to Malaysia, it's quite a hefty premium, but these guys at Lowyat have ready stock and they've already absorbed the risk for you. So I think it's a pretty good deal. Plus, a lot of people theorize that Amazon actual sells Kindles at a loss, hoping to recoup the money from the book purchases you make online, so I think Rm400 is the actual cost of the device, which makes me a feel a tad better about the purchase!
Setting up your Amazon Account
Now, technically the Kindle isn't available in Malaysia, and Amazon won't even ship it to you. So if you try to activate your Kindle with a Malaysian account chances are it won't work, or you will work but you're not going to get the 'free' US content. What you really need is a US-based Amazon account.
How to get a US-Based Amazon account
To get a US-Based Amazon account, all you need is two things a US IP address, so Amazon thinks you're logging in from the US and a US Home Address. Then it's just a simple matter of registering a new account.
For the US IP Address:
Either use proXPN or I used my Amazon EC2 instance. As long as your Amazon EC2 instance is located in the US you can pass off as US user. If you work for Multi National, chances are you also have a US VPN service, this will also suffice. The simplest way though is to use a proxy like texasproxy.com or hotspotshield.com, I've also wrote a post before on how you can create your own proxy if you have webhost.
Once you have a US IP address, it's an simpler matter to get a fake US address. Head on over to Google Earth, look for something generic like Bank of America, Citibank or Dunkin Donuts, select one of them and use the Address.A simpler method may be to use http://www.realusaaddress.com/ as well. I'm no advocating fraudulent activity here, as you're obviously trying to pass off for someone you're not, but this is the only way to get a US-Based Amazon account.
With a US IP address and US address, just register yourself on Amazon and sync you Kindle and you're good to go. You only need to do this once, and that's it. From then on you don't need to use the proxy anymore. So it's not that inconvenient.
Buying Books on my Kindle (Method 1)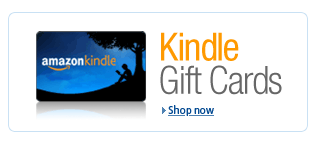 Now Amazon won't let you buy books for your Kindle with your Malaysian credit card. If you have US credit card, then you're good to go. However, if you're like me and don't have a US credit card there are other options, and the one I chose was using the gift card.
A gift works around the US credit card requirement by having your Malaysian Credit card purchase the gift card on your Malaysian account as a 'gift' for your US based account. This way it looks like an American is purchasing the book with the gift card.
At this point I have 2 Amazon accounts:
1) A Malaysian based account I use for my Amazon Web Services and the few things I buy from Amazon.
2) A US based account , I'll be using for my Kindle
So I head on over to Amazon , browse to Kindle Gift cards, and then select Instant Delivery Via Email this sends the giftcard directly to my email. In the receipient email field I place the email address of my US based account, and then use my Malaysian credit card to purchase the gift card.
If everything goes as plan you'll receive the giftcard in your US based accounts email. For some reason my confirmation code ended up in the spam folder, presumably because it had "Gift" in the title, so if you don't get the email instantly, try looking in your spam folder.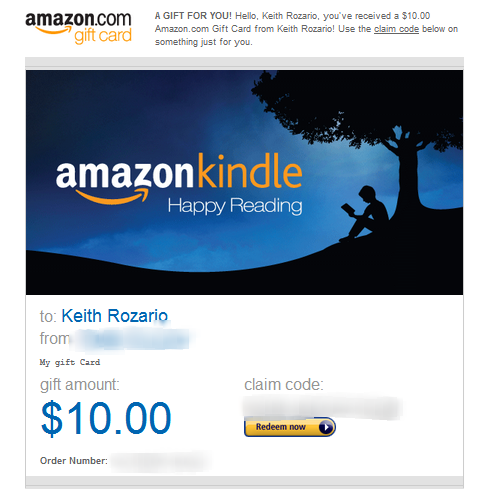 Now we're almost there. I've blanked out the claim code (because I really did buy $10.00 of Amazon credit). Then I logon to www.amazon.com/kindlegift as my US based account, and apply the claim code.
Once that's done I can easily see a redeemed amount of USD10.00 in my account, and I'm ready to purchase.
This $10.00 will be immediately deducted from a purchase. It's also obvious, (but I'll point it out anyway), you'll need to have the exact amount of your purchase (or more) to make the transaction successful. While US users with US credit cards can complete the sale easily, Malaysian users can't 'top-up' with your credit. So if you're planning or splurging I suggest getting your shopping list first before you buy your gift card.
Buying Books on my Kindle (Method 2)
KindleMalaysia also suggest you can buy books direct from your US account using the Maybank Platinum American Express card, and in fact I can. In fact a reader posted a comment below that you can easily buy books using his Maybank credit cards:
"I've been able to purchase kindle books with both the Maybank Visa (RM10K limit) and MasterCard (RM5K limit) with MSOS (Maybank Secure Online Shopping) activated that can be done by calling the number at the back of your card. The charge is reflect in dollars, but usually a double charge."
So in this case you no longer have to use Method 1, but you can just quickly setup an American Kindle Account, and then register your Maybank credit card with it–and voila you'll be purchasing ebooks from within your Kindle–a far better and easier way of purchasing.
Is this illegal?
You know how I feel about copyright, I don't quite like it.
The analogy is quite straightforward, I can buy a book from Amazon and have them deliver it to me and pay no taxes. I know, because I've ACTUALLY bought books from Amazon and bookdepository and betterworldbooks and have never been charged a cent in taxes for these books. So why can't I buy an e-book from Amazon?
Technically, Books are non-dutiable products, meaning that if I went to America and Bought a book and then brought it back to Malaysia by hand, I'd be charge no duties or taxes. Duties are only applied to hand carried items for non-commercial purposes. note: I'm no lawyer but I think that's the case
However, hand carry isn't the same as a cross-border purchase. So the law is quite clear that if I buy 'physical' books from Amazon, I'd have to pay a 20% import tax. That's a pretty steep price, but it'll be cheaper than buying it locally from a brick and mortar store.
However, where it's a bit fuzzy is whether an e-book is taxable. Bluedart mention a 20% import tax for Books: hard book/paper book noncommercial use , now and ebook is neither 'hard book' nor 'paper book' so it's a bit of a grey area to me and I'm trying to figure this out. note: I just discovered Malaysian law makes no differentiation between physical and electronic purchases
In my mind, something is wrong with the Government when tax exemptions are given for books (up to Rm1000 a year) and broadband (up to RM500 a year) and then they have a sales tax books and ebooks. What's the point of the tax exemptions any way, as far as I understand it only 20% of the workforce actually pay income tax, the better way to encourage people to read would be to do away with the import and sales tax altogether.
So in conclusion, I don't know if it's strictly legal from a tax perspective, but at least you're buying an original book where the author (and publisher) is getting some money from your purchase. However, since you're not paying taxes, it's technically illegal.
You might as well go all the way and download the ebooks from torrent files, just kidding. Maxis has an ebuuk page online, but I'm unsure if they provide .mobi or .epub files to go with it. I'm not advocating copyright infringement but the local book publishers are charging us nearly 3x more the price of Amazon ebooks, for the exact same content.
I intend to write up about the legality of downloading ebooks from Amazon in a separate post, but for the time being, it's suffice to say that besides the little 'fraudulent' behavior of registering a fake US home address, and the fact that you're not paying the 20% sales tax, there is nothing wrong from a copyright perspective of downloading books from Amazon.
Book publishers may complain, but that's the law. The reason Amazon won't sell you the book is that they have a contract with Book Publishers to only sell the content in the US, however the stipulations of that contract do not apply to Amazon customers (i.e. YOU!!).
Pictures of my new Kindle
I'll upload this in a separate post, but the picture above was a snapshot I took of a side-by-side comparison of the Kindle displaying the first chapter of Malcolm Gladwells "What the Dog Saw", with the actual book. I chose this book because it's the only book I had which was the same size as the Kindle. Other books were about 20-50% bigger, so in fact the Kindle is smaller than most non-fiction books.
Conclusion
I don't want to get into too much detail about the legality of downloading books from Amazon, but I will say this– the copyright holders still get a fee from book sales whether it's in America or Malaysia, and there's no reason why Malaysian ebooks cost so much.
Other than that, the Kindle Touch is so awesome, I've decided to buy another one, Or maybe the Barnes and Noble Nook Glow, which has been getting a lot of reviews. If you're thinking of getting a Kindle Touch, let me save you the trouble–JUST GO AND GET ONE!! All the sellers above appear trustworthy, although I can only vouch for the guy I actually bought it from which is sambb67.
That's all folks, now happy reading!!