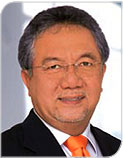 Just this morning I wrote about how my Unifi services went down and how I wrote a letter to what 'appears' to be Telekom Malaysias CEO email address.
A lot of Malaysians are skeptical that CEOs would actually respond to emails. Steve Jobs has responded to many emails personally and so has his successor Tim Cook. There have even been reports of Palm's CEO responding to customer query and even non-tech companies like home depot doing the same.
These however are American companies, not Malaysian, would a Malaysian CEO actually respond to an email from a small-time RM150/month customer like myself? I figured why not give it a try, I was already internet-less — what more is there left to lose? 
So late last evening I wrote an email to TMs CEO, hoping I could catch Dato' Zamzamzairani and hopefully he could get me some results.
The email to [email protected] is as below:
Hello Dato,

You know, with companies that pride themselves on superior customer service, everyone (including the CEO) is within the reach of the customer, which explains why there are numerous cases of people writing to Steve Jobs and getting a response. I was hoping TM would be a bit like Apple, and that's why I'm writing to you.

I purchased a subscription to UniFi on the 1st of December 2011, and was thrilled with the speed and stability of the line. I must say I was impressed with the overall feel of the service.

That however changed on the 30th of January 2012. Barely 2 months from first experiencing Unifi, I experienced a service fault where all my Unifi services went down.

This included internet connectivity which I use for my work.

I made a call to the TM helpline almost immediately and was given a ticket number 1-XXXXX and was told someone would contact me after 24 hours. I got an sms from Unifi claiming there had been a network fault and I would be contacted once it was fixed. However, 24 hours after my first report, I received no news from Unifi and then I called again, this time I was given a new ticket number 1-XXXXX, and told to wait 24 hrs again.

Then on the 1st of February, somewhere around 4pm a Unifi Agent called me to say that my services were operational again. I told her I couldn't verify this, but since I TRUSTED UNIFI, I told her , she could close the ticket. Which she did.

Unfortunately, upon reaching home later at night, I found my internet connection still faulty. I made a 3rd call to TM, and again they raised a new ticket 1-XXXXXXX, and told I would be contacted in 24hrs. No one could tell me when the problem could be fixed.

I'm quite sure from your end you'll see 3 tickets closed in 24 hrs, and it'll look very nice. That isn't the truth. It's 1 fault that hasn't been fixed for 3 DAYS.

I would appreciate if you could help me rectify the issue as soon as possible. I work from home a lot and a service down time affects me very very badly.

I can contacted at this email and would appreciate your help.

Regards,

Keith
I wasn't really expecting a response, and today barely 24 hours later I got one. While I was having lunch someone from TM called to say my connection was working again–although I learnt not to trust these calls till I checked out the issue myself. So in about 30 minutes, I'll be heading home to check my connection and hopefully I'll have a working internet connection.
That being said, here's the reply I got from the original email, shortly after I got the phone call:
Hi Keith,

Thank you for highlighting the matter to our attention. We would like to apologize on the experience that you've endured and we would like to make amends by solving the problem soonest possible. I assure you that our organization is indeed gearing up to give not only a better product but better service to our customers.

You would be receiving a status update from us again by today.

Thank you,

CEO Feedback.
So obviously this isn't Dato' Zamzamzairani. I wonder if anyone in Malaysia ever got the customer service they deserve by writing to the CEO. In my opinion sometimes CEOs are so disconnected from the ground that they would appreciate these emails directly from customer (provided they don't occur too often). I'm not sure that this is the level of service I want, but it's better than what I expected.
update:
Unfortunately, TM has failed in every aspect of their customer service. Not only was my internet connection STILL not working (after 5 days mind you), I was on the phone with the Unifi call center for more than 45 minutes as they tried all their ultimately useless resolution steps. After nearly 30 minutes exasperation I was told the following, that indeed the issue has yet to be resolved although I was called and told it was.
At this point I asked to speak to the supervisor.
The supervisor then answered the phone –after about 10 minutes of holding. After a long conversation with her, I asked for a commitment that the technical team would contact me back, at which she gave the standard response "I will try my level best", no promises , no concrete timeline on when I can expect a fully working solution.
Then I asked for something I thought was very reasonable. I asked that the supervisor, contact the technical team and then call me back.
She said she was unable to call me back, as only the 'follow-up' team could contact me back. So I was on the phone with someone who would not give me a promise and COULD not call me back. That's what I call a black hole, this person could have just hung the phone and gone back home and no one would know anything. How is it that a frontline customer service agent is TOLD NOT to call a customer back, and not to make promises. How is it that a multi-billion monopoly has such ridiculously lousy customer service.