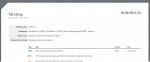 Ever had to share minutes across multiple people but never really got down to it. Some people love to jot down minutes in an excel spreadsheet, and then attach that spreadsheet to an email that is then blasted to relevant people in the group. The problem with that is that the minutes are never really up to date, at any one time, you'll either need to forward everyone in the group a separate emails (with updates) , or just accept the fact that they'll be lagging behind until the next checkpoint.
The solution to this is a web-based tool, that allows you to send everyone a link to a 'live' copy of minutes, that can be updated as and when information becomes available. Anytime someone wants an update on progress all they have to do is visit the link and they'll have up to date information (provided you update the information).
That's exactly what minutes.io does, it allows you to share meeting minutes with everyone through a simple link, and it works fantastically well. The design of the site is simple, it's easy to use with no registration required.
The elegant design of the site strikes a balance between feature rich and user-friendliness. You don't need to register and the interface is pretty intuitive. It provides you fields to update the attendees, the meeting title and some additional information. Each bullet point in the meeting can be a TO-DO, IDEA, OKAY, INFO and they all can have owners and due dates. It's perfect for those meetings.
You can check out a sample minutes I've created here
One of my favorite web-based tools (before they took it down) was drop.io. Minutes.io takes up the mantle pretty well, that being said my all time favorite designed web tool is strike app. In my mind, Strike App is the best designed site of all time.
Once again, I have to thank the folks at lifehacker for introducing me to minutes.io.