Quick, try this. Head over to your facebook page, and try to share a link from Mahathirs website, www.chedet.cc.
Can't do it?
You most probably got a warning that looked something like this: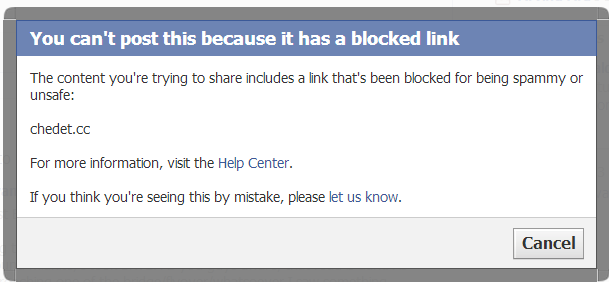 This has been going on for some time, but a couple of days ago, the Malaymail reported that not only is the website blocked, but articles pointing to Mahathirs 'Chinese dilemma'  were also blocked. A note on Mahathirs Facebook page informed readers that:
[box icon="chat"]Today, Facebook has informed us that the article was removed for violating its supposed community standards. This means there were many who were disturbed and opposed, and complained to Facebook against what Tun wrote.
Apparently Facebook has standards, that Mahathir violated, and hence his post regarding the Chinese Dilemma, which was deemed to have violated those policies was removed. This reminds me of a similar debacle with Facebook 'standards' regarding women posting pictures of themselves breastfeeding their children–Facebook finally capitulated on that one.
I personally don't like censorship, even when it's aimed at something as vile and bigoted as Tun M's commentary, but the fact remains that Facebook is such a  omnipresent network, that censoring even a single post on Facebook has a huge trickle down effect on society. Who elected the User Operations team at Facebook to be the final arbiters of what should and should not be posted–no one!
Facebook have moved well beyond the realm of private enterprise and into the sphere of public interest, and in matters of public interest is should abide by the universal civil liberties accorded to everyone–even Former Prime Ministers of Malaysia.
Obviously this is an "I told you so moment" for Tun. Who is he to complain of censorship? In his reign the government had such a tight stranglehold of the media it was impossible for any opposition party to have a fair shot in any general elections. His successor, had far more 'tolerance' for the media freedoms, and Malaysia is now a better country because of it.