A couple of days back, I decided to buy a Christmas present for my wife. In my usual lackadaisical procrastinating style however–I only decided to buy on the 21st of December, which is barely 4 days from Christmas.
In my defense,  I already had a great Christmas present in mind–it was something called the fitbit, a full fledge pedometer that not just records your steps everyday, but also your sleep time and tracks your daily activity. The best part is that the fitbit stores your data on the cloud, where you can analyze it to your hearts content. Not a bad present for a wife whose far more physically active than me :). (does blogging while standing count as a physical activity??)
There was however one problem–the fitbit isn't available in Malaysia. I tried and I tried, but I couldn't even find a lowyat seller who had it in stock. Now we really did have a problem.
Fortunately, I found one on Amazon–and Amazon did ship to Malaysia. So after a couple of credit card details were punched in (and a full USD30 for shipping) I manage to place my order on Amazon. The Amazon website promised 2-4 day delivery time-frame but stipulated in no uncertain terms that the order would not reach me before Christmas.
To my utter surprise–the fitbit was at my doorstep on Christmas eve. I was astounded and shocked and all those other things you feel when something unexpectedly good happens to you. So I thought in the spirit of sharing to share with you the experience I had with Amazon shipping–it may be expensive, but it arrives on time.
Here's the delivery tracking from Amazon (click on the image to enlarge):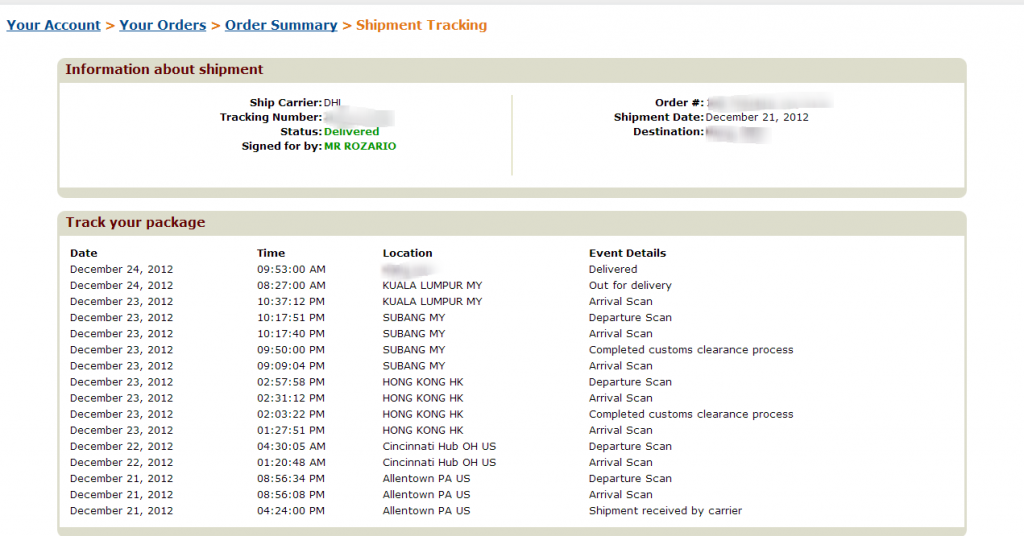 So overall I did fork out an additional USD30 (which is roughly RM100), but from my experience grey market importers charge this much extra for things like the Kindle anyway. So an additional USD30 was pretty worth it and the speed of delivery was amazing.
Have you bought anything from Amazon and wanted to share your experience? My experience with other online sellers like book depository and better world books were also good, but that was free shipping which took about 2-4 weeks rather than 2-4 days.