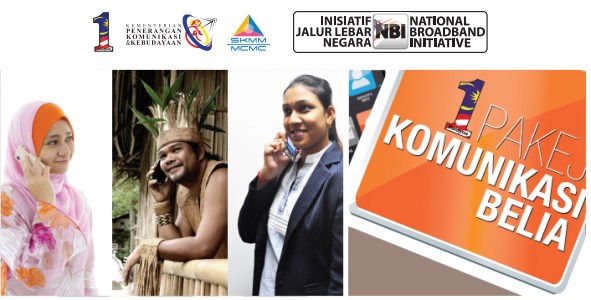 The Malaysian Communications And Multimedia Commission (MCMC) or better known by its bahasa acronym SKMM, has recently announced that the government will be offering a 'rebate' of RM200 of a list of 'selected' smartphones for youthsaged 21 to 30 years old. The program called the 'Youth Communication Package' or Pakej Kommunikasi Belia (PKB) has come under tremendous scrutiny from both the general public, and even members of the ruling government as well.
Youths who qualify for the RM200 rebate will be able to purchase 'selected' 3G smartphones costing up to RM500 from selected dealers and agents appointed by service providers. With the rebate, they are expected to pay no more than RM300 to own a new 3G smartphone. "The idea is to spread the incentive across to those who do not yet use smartphones. We really want to help those who cannot afford to change phones to upgrade from their old 2G phones to a basic 3G smartphone.
The Malaysian cyberspace was immediately set abuzz when the announcement was made. The twitter outburst over the scheme is primarily on the price cap of Rm500 because when the Prime Minister announced this back when the budget was tabled, there was no mention about the RM500 price cap on the phone. Even UMNO youth chief Khairy got in on the action–requesting the government not limit the price of the phones, even after the SKMM 'clarified' why it was offering the rebate to only those purchasing phones under Rm500. (apparently we don't offer rebates to the rich)

The internet protest has actually resulted in a government flip-flop (not the first time I might add), with Information Minister Rais Yatim announcing that the rebate will also be applicable for those purchasing phones 'slightly above' Rm500. As to what the term 'slightly above' actually meant–well that was left to the imagination.
The online outburst aside however, isn't exactly the best idea. I get what the government is trying to do–but I just don't agree with way they're going about doing it. The entire program is run on a first-come-first-serve basis, and is applicable for the first 1.5 million youths who apply, simple mathematics mean that the cost of just the rebate itself is RM300 million, if we include the overheads, that would end up somewhere in the region of Rm330 million. That's a lot of money to be spent.
So the question simply becomes, is it worthwhile spending upwards of Rm300 million on 'subsidizing' low-end smartphones for youths? The answer is most definitely–NO.
Why the Pakej Kommunikasi Belia (PKB) is ineffective.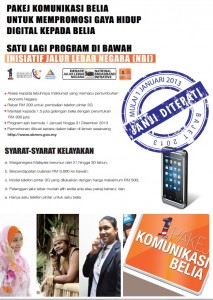 Firstly, I don't understand why the government is targeting the 21-30 year old category? No one has yet explained why the cut-off was at 30 (and not 40,50, or even 60), or why we start with those that are 21 (instead of 18 for example). It's these sorts of arbitrary decisions that really cheese me off. Whenever the government spends RM300 million, I have a right to know under what basis it's spending this money with all the details. When the government doesn't provide these details, it just makes me think they haven't thought it through–and spending Rm330 million on something they haven't thought through is irresponsible.
Secondly, the government makes no mention of data plans. One of the eligibility criteria is that you must be a subscriber of an existing mobile data plan, or you will have to subscribe to new plan to be eligible for the rebate. Which means, you're likely to be spending somewhere in the region of RM30 to RM48 per month (all of which will be subjected to 6% GST by the way). So the government gives you RM200 on condition that you sign up for an extra expense of about RM48 a month.
Thirdly, while still talking of data plans, if the purpose of the scheme to help those in the lower income–and if the lower income are mostly prepaid subscribers -how do prepaid subscribers get a data plan? Aren't data plans only applicable to post-paid users?
Fourthly, this is political. Don't think it isn't when the words 'Janji Ditepati' is plastered on the SKMM poster for the scheme. (click on the poster image to enlarge)
The main reason why the Pakej Kommunikasi Belia (PKB) is a sham
I have saved the best for the last, the fifth and most important reason the PKB is a total sham is that The government shouldn't be subsidizing a smart phone, when broadband home penetration is just 62%!!
In states like Sabah that number falls to just 48%, and in the more remote parts of Malaysia it gets even worse.
Home Broadband penetration–which is infinitely more importantly than mobile data penetration–isn't high and no where near saturated. Why then are we pushing for mobile smartphones, when a majority of Malaysians don't have high quality broadband in their own homes to begin with.
Those aged 21 to 30 are far more likely to use their home broadband for work and study, then their mobile data package. How much work can you get done on a RM500 smartphone anyway? The whole idea that somehow we need to spend taxpayer dollars on subsidizing some guys smartphone so that he may tweet his lunch plans of post his current location to facebook is just plain stupid. While for the most part, that same guy who can't afford the smartphone in the first place probably doesn't have home broadband.
Conclusion
In 2 years (or probably less) those Rm500 smartphones would be dead anyway , and the Rm330 million we've spent would have come to nothing. Home broadband rates wouldn't have risen much higher, since the middle income families would have purchased their smartphones with data plans rather than invest in their home broadband.
If however, we focused on getting home broadband penetration numbers higher, particularly in the rural areas of Malaysia that would eventually lead to something better.Home broadband makes a difference, particularly for school going and university students. The whole concept of subsidizing smartphones that are going to be obsolete soon (if they aren't already) is just baffling.