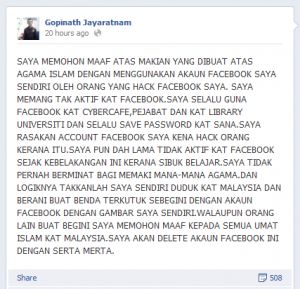 So let's say someone in Malaysia actually was stupid enough to post something insulting Islam and it's Prophet on his Facebook page as a status message. Then let's say that same person claimed that his Facebook page was hacked.
Finally, we say there's a huge backlash against this person on the internet, so even though the comment was deleted from Facebook, it has been screenshot-ed so many times, it's now permanently etched online.
This is exactly the sort of hypothetical situation the newly amended Evidence act is supposed to address, yet for the most part it doesn't. In fact, the case really isn't hypothetical, it's actually something going on right now, and it's a great test-bed to see if indeed the evidence act would help us address these issues.
Gopinanth Jayaratnam from Klang, posted up a rather insulting statement online about Islam. Of course, a couple of people picked it up  and soon it went viral on Facebook. What followed was every bit as predictable as a bad hollywood movie, Police reports were lodged, the 'suspects' personal details were published online and soon a group calling itself the Jemaah Fisabilillah Klang, launched an actual attack on his house. The gate of his house was rammed into and the car parked in the compound was damaged. Fortunately, there was no report of bodily harm, but one can imagine that's probably not too far away.