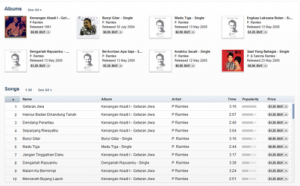 Finally… it's arrived!!
It was a long wait since my first iPod, but finally the iTunes has landed in Malaysia. Apple made a rather quite launch of the iTunes Store in Malaysia, meaning the days of logging into iTunes with US accounts and gift card purchases are over. Malaysians now have access to an entire treasure trove of songs available for the same prices as they are in the US. That's about $0.99 – $1.69 per song, or $9.99 per album (roughly).
I was so excited, I immediately logged onto iTunes with my Malaysian account to check out the details, it took a while, since I'd forgotten my Malaysian account password, but soon after I was greeted at the iTunes store by Jason Mraz himself. I was also informed that the iTunes Store in Malaysia had more tailored local content these include songs from P. Ramlee, Man Bai, Chinese songs as well as Hindi songs (kuch kuch hota hai for $0.69 anyone?). It's also good to see that Kau Ilhamku by Man Bai was Top of the Charts, signifying locally driven content. Where else would you see Belaian Jiwa and Moves Like Jagger on the same charts?
Also there are more P. Ramlee songs on the Malaysian iTunes store than there is on the US iTunes store, so it's tailored to Malaysian taste.
Of course that raises the questions, are there more 'American' songs on the US store than Malaysia?
Is the Music Selection the Same as the US?
In all the excitement I was still  a bit skeptical on whether the content offered by the Malaysian store matched the US one. So I did a bit of snooping. Using a handful of artist I considered was representative of everyones taste, I tested the Malaysian store against the US store to see if indeed we had the same songs and albums and if the content available in Malaysia matched the content available in the US.
The artist chosen were:
1. Aerosmith – Kings of Rock, and since AC/DC wasn't available on iTunes the True Rock Gods of iTunes
2. Nat King Cole – Legendary artist
3. Louis Armstrong – Comparable to Nat King Cole, but I thought 2 great Jazz artist would be good
4. Creedence Clearwater Revival – CCR are legends, and I'd thought it be good to get ol' skool band in the mix
5. Justin Bieber – For the interest of science I had to include Mr. Bieber, he represents Modern Pop.
6. Cypress Hill – Insane in the Membrane was my personal anthem in high school
7. Kenny Rogers – Before he roasted chicken for a living, he was also a Legend of country Music
8. P. Ramlee – Malaysia most influential artist, must be on the list. (Plus Getaran Jiwa was the first song I bought on iTunes Malaysia)
So the list includes local, jazz, country, rock, pop and hip hop superstars and I'd thought it'd be good to see just how many songs and albums for each artist was offered by the Malaysian iTunes store against the US iTunes store. The results were surprising:

Now while it's not the same, I noticed in some cases the Malaysian iTunes store had MORE stuff than the US one, but I attribute this to the HUUUUGE amount of 'karaoke' versions of songs available. The Karaoke versions are what some might refer to as 'minus-one' versions of the song, with just the music but no vocals.
Note to all Malaysians: if you want to sing a song with just music and no vocals–Learn a musical instrument–learning to operate the remote control at Red Box isn't considered a musical instrument.  
That being said, even a die-hard Aerosmith Fan like me can't name you 416 Aerosmith songs (I tried), and most of the songs are duplicated anyway between the original album, the greatest hits album and the anthology albums. For those unfamiliar with iTunes it's also worth mentioning, that depending on the source album, the price of the song could vary quite a bit — even though it's the same song. So thrift shoppers on iTunes look around before putting down a full 99 cents to buy a song. (those prices are in USD by the way)
Finally it's also good to see local artist being featured prominently on the store. While my download of Getaran Jiwa by P. Ramlee cost me $1.29 most local content on the store cost just $0.69 so that's really cool. Local artist should be flocking to iTunes as we speak.
I'm not really a fan of Chinese or Hindi songs, so it'll be good to hear if Malaysian find the selections of these songs sufficient to satisfy their musical cravings.
How about explicit Content?
As much as we hate the Malaysian censors, it looks like the censors have given iTunes a miss. If you don't believe me, search for Fashion Nugget by  the band Cake on iTunes and then preview the song.
A mild warning before you do, the song isn't labled explicit for no reason. NOT SAFE FOR WORK (NSFW), for that matter not safe at home with the kids either.
Conclusion
I'm absolutely ecstatic that Malaysia finally has an iTunes store to call their own. We get practically the same content as the US iTunes store and we have local artist thrown in the mix as well, and the prices are the same. For Malaysian Rm3.20 a song may seem like a lot, but that's cheaper than an original CD and you don't even need to buy all 12 songs.
This is a Fantastic piece of news.
Good one Apple!!
You can download iTunes here.