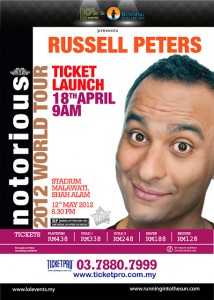 Update 1: Russell Peters World Tour in Malaysia was sold out in hours. I failed to get a ticket online, couldn't even log in. A friend of mine lining up in KLCC was told at around 10-ish in the morning that only platinum tickets were available. 
Update 2: There are 'strong' rumors suggesting there will be a 2nd show due to the overwhelming response. stay tuned.
I remember watching my first Russell Peters video at my cousins place, and that was the classic gig which included "be a man" and "Chop some bong". I remember laughing so hard my stomach hurt, and I also remember asking my cousin to burn me a copy of the video onto the CD so that I could watch it over and over again.
Then I remember sharing it with my friends. Again burning a whole bunch of 'illegal' cds.
Then I remember going onto youtube to get more Russell Peters, for free and technically illegal as well.
Finally I remember bit-torrenting Red, White and Brown, and laughing my ass off in front of my PC monitor.
And Lastly, I remember watching a Russell Peters video where Russell calls guys like me "fucking downloaders!', as a direct reference to us getting all our material online rather than watching his show.
Well guess what, Russell Peters is coming to Malaysia, and the only thing I'm worried about is whether I'll be able to get a ticket. Cause I know of at least 100 people who are just waiting for April 18th so that they can finally buy their Russell Peters Tickets. The Russell Peters Dubai show sold out in 8 minutes…..8 minutes. My family PC at home takes 10 minutes to boot into windows, AirAsias free Air tickets don't sell out that fast…it's every man for himself here people. I wonder if Russell gives Indian discounts?
So what does Russell Peters mean to copyright. Russell Peters is proof positive COPYRIGHT SUCKS!
Think about it, Russell Peters didn't issue a takedown to YouTube to remove his videos, instead he leveraged on YouTube to increase his popularity. He didn't try to sue people who shared his video on bittorrent, instead it's helped him become one of the most successful comedian of his generation.
It's because the content was free that people watched the videos, and it's because people watched the videos that they now want to watch his show live. If it wasn't for 'fucking downloaders', he wouldn't have sold out Dubai in 8 minutes.
Had Russell instead issued takedowns on youtube, had he zealously fought for copyright protection of his material, he would still be funny, he'd still be successful, but there's no way he'd sell out in 8 minutes. In fact, since no Malaysian would know him, he'd probably perform to an empty crowd at Stadium Malawati.
The only reason he's able to perform in Malaysia is because Malaysians watched his videos 'illegally' and loved the content, and now that there's a chance for them to watch him in person… they're splurging up to 400 ringgit per ticket to watch him. Russell is a great guy and this is proof positive that illegal downloaders aren't free-loaders hoping to get everything to free, they're willing to open up their pockets as long as the content is great.
So there you have it folks, I'm already anxiously waiting to buy the tickets, and you should you.