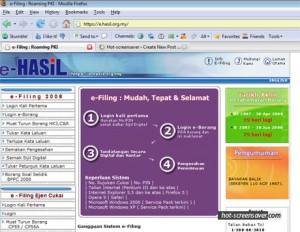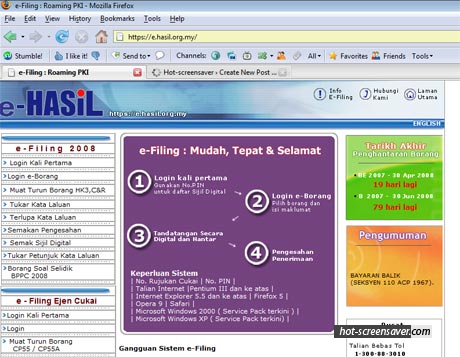 The star today reports that:
e-Filing looks to be a definite winner among Malaysians well over half of the country's estimated 2.5 million tax-paying citizens have gone the paperless route.

Inland Revenue Board (IRB) figures showed that as at yesterday, 1,621,647 Malaysians had filed their taxes, with online filings accounting for nearly 75% of the total

I must say, if the numbers are true, that this is a fantastic achievement. I think there will always be people (particularly from the older generation) who prefer to file paper based tax forms and a rough estimate maximum e-filing rate would be around 85% in my view, so 75% isn't quite far off.
This is fantastic news for 2 reasons:
1) Malaysians have reached a level where about 50-75% of the workforce aren't just IT literate, but are comfortable using online applications like e-filing. Remember these are systems that deal with money, and a certain amount of trust needs to developed (or earned) before people start using them, and this is a testament to the wonderful people over at LHDN who've worked hard to earn that trust. Stories of people receiving payments merely 2 weeks after e-filing surely help along that process.
2) The system itself appears reliable enough for 50-75% of taxpayers to use. We're talking about 1 million users in what is a 2-3 month period. That's quite a short amount of time to process these things, and as we approach the may 15th deadline, I'm sure the numbers are peaking. LHDN can be excused if the server crawls on May 15th, after all latecomers only have themselves to blame. I must say, when I filed about 2-3 weeks ago, the experience was buttery smooth.
So congratulations to the LHDN team for delivering a good solution. People rarely talk about successes, particularly when it's so easy to focus on failures. However, I'm one of those whose never filed a 'paper-based' income tax submission so I don't know how it was in the 'paper period', and I MUST say, I've never had an issue filing my taxes. The overall feel of the interface is a bit dated, and yes the forms could be a bit more intuitive, but overall this is definitely a home-run in terms of application development.
I guess we must also commend the government, if there's just one aspect of government you want to work correctly (as a Government)– it's tax collection.