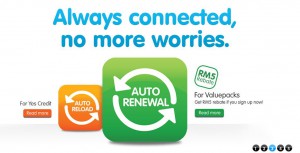 I recently purchased a yes mobile account, and was pretty happy the results. In my past review I mentioned that the speed was great followed by good stability. However, there have been some downsides to the service, and here's some reasons why you should avoid yes mobile.
While Yes is great, there are overall flaws with the service, and below is my review of 3 reasons why you shouldn't use YTL Yes 4G.
Before I move to the reasons, let me explain the kind of user I am. I work from home 3 times a week and use my laptop for just about all my working needs which include late night teleconferences, phone calls (via my companies VOIP) and even for webcast and presentations that I do on a regularly basis. Working from home has it's advantages, for one I don't travel too often and can usually get a lot of work done. However, if my internet connection is down, I'm completely cut-off from the office, with no office communicator and email, there's very little I can do at home. Even worse, if the internet connection goes down before a teleconference (or even during a teleconference), things get pretty ugly pretty fast. I absolutely need a stable and reliable internet connection and chose Yes 4G because I thought it would provide me that, turns out I was wrong.
Reason #1: A prepaid service that doesn't alert you when your balance is going to finish
Yes! operates on a prepaid model, where for RM68 you get 3.5GB of data transfer and some freebies thrown in the middle, the problem however is that it doesn't alert you if the your balance is ridiculously low. You would think they would set some thresholds where an email is sent to alert you when you're down to 1GB, 500MB, 100MB, 50MB..etc, but there aren't.
What this translates to is your internet connection could get severed half-way through a call and Yes wouldn't even warn you. In fact this is exactly what happened to me, and I consider this a fundamental design flaw. Any pre-paid system should warn you when your balance is nearly finished and provide consistent and constant updates.
Now Yes does offer a 'automatic reload' function, but this isn't really the same thing. I want to have control of my spending and providing me those email updates is the best way to do it. Basically what Yes is saying is that the only way you're going to have peace of mind, is giving me your credit card number.
Reason #2: A Telecommunications company has no phone number
Today I suffered another Yes 4g outage (2nd time in 4 months). Going online proved useless as Yes doesn't have a phone number I can call to make a complaint or to get an update on. How in the world does a telecommunication company operate without a help-line. I know phone numbers are a bit outdated but I still think it's absolutely necessary for a company to have one, especially one catering to end-users like myself and especially a telecommunications company. Take a look at the screenshot below, see any phone number?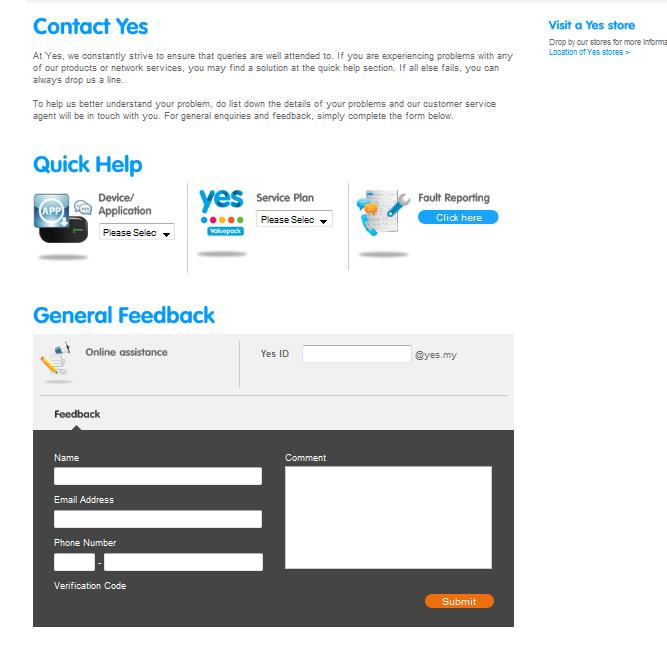 The strange thing about my breakdown today was the fact that I could access the YES homepage but not my own, leading me to believe that my credit had run out, but further inspection proved that was not the case, however I eventually had to reload just to see if I could get back online (I was that desperate), but to no avail. In situations like this I wish I could call a number and talk to someone, it would have saved me the RM68 I spent on a top up that didn't solve my problem.
And this is me, imagine if my mother was using Yes, how would she report an issue, through a bloody website?
Reason #3: It breaks down….
Yes had it's second outage today, and I had to drive about 2 km to the nearest starbucks to continue working, this is 7pm on a working day. Now internet connections breaking down is one thing, and I expect that, but I'm paying a premium for Yes and I expect premium service. If I head over to a YTL hotel like the Pangkor Laut, I expect to be treated differently than when I fly AirAsia, the difference is the price point. If Yes insist on being the most expensive broadband plan in Malaysia it should start offering better service with higher reliability.
UMobile offers 5GB for the same price as Yes 3.5GB, and my home streamyx offers higher reliability at a much lower cost with unlimited downloads (at a slower speed of course). The point is, I pay a premium and I expect a Premium, 2 downtimes in about 4 months is unacceptable for a premium service.
So overall, while I was initially happy with the service, these FUNDAMENTAL flaws in the design of the service have made me re-think. In fact, I'm already registered for a UniFI which should be installed next month. So there it is, 3 reasons you should say NO to YES.