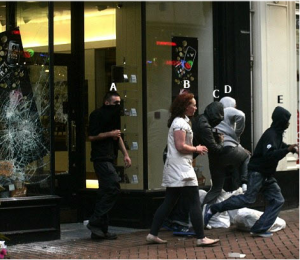 The recent events in the UK while tragic have unveiled some new uses for crowdsourcing. Some time ago people used Google Wave (now called Apache Wave) to help find a criminal murder suspect, which was amazing news if you ask me, but it still didn't save Google Wave. Now however, the guys over at a website called Zavilia had a brilliant idea of using crowdsourcing to solve the London rioting problem, the premise was simple, users would upload photos of the looters and rioters and those photos would then be posted online.  Each rioter would be labled with an alphabet, and finally other users could check out the pictures and begin identifying anyone they knew…brilliant solution.  Personally, I can't imagine solving this problem without crowdsourcing, and it just goes to show that in the future we will solve problems together via collaboration on a massive scale rather than a few geniuses leading the way.
The guys over at zavilia have shutdown their website claiming:
The development of Zavilia: Identify UK Rioters has been temporarily paused due to a decrease in traffic and in user interactions. However, we fully intend to continue development at some point in the near future.
Which is sad, but you could take a look at the version that was up @ http://www.zavilia.com/identify/
Amazing.
As an addition, I'd recommend you guys read an interview the creator of Zavilia here.