It's been near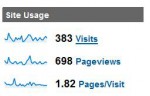 ly 3 months since I started this blog and so far I'm no where near my target of 1000 hits a month. At least I'm about 30% of the way there, but that last 70% seems like a difficult mountain to climb here, but I'm going to try. Once again with hard work, good content and savvy marketing I'm hoping to jack up the blog hits from where it is (383 hits/month) now to where I want it to be  (1000 hits/month).
So how do I increase my blog hits? Well the simple solution is to just visit my own site…but that's not exactly what I had in mind. What I'm hoping to do is to create more content that people want to read, for example, using google analytics I've manage to look at my top landing pages. Apparently besides the main blog itself (www.keithrozario.com), a lot of people seem to be visiting a post I made about creative resumes, and the short tutorial I posted about how to share large files also seems to garner some decent hits. Rounding up the top 10 are mostly tutorials or reviews of web apps I review periodically. The main point is , these are the the types of post that bring in the hits and if you aim for more hits you'll need more of these types of post.
*Some post are very niche, for example Creative Resumes bring it a lot of hits,  but Creative VCards which is very similar…doesn't. People don't search for Creative Vcards as they do for Creative Resumes.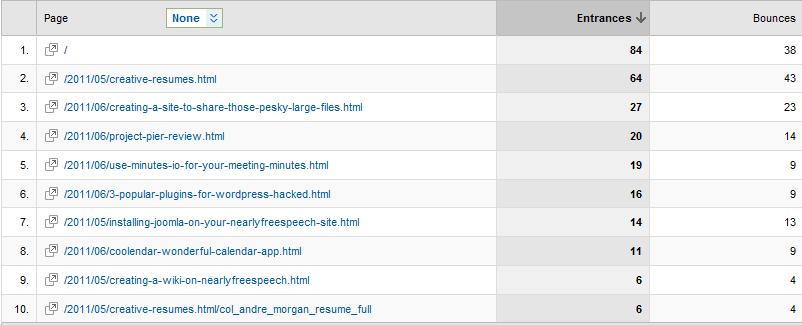 For instance my review of Project Pier still nets me 20 hits/month. Not bad, all I need is 50 of those post and I'd reach my target. It's not so simple unfortunately, the hits come from different places, and even though I'm on AllTop, no hits are coming from them. Although a post I made on a LinkedIn group about a wordpress hack did manage to bring in 16 hits. That's not bad at all. The traffic sources I have do make the picture a lot clearer though: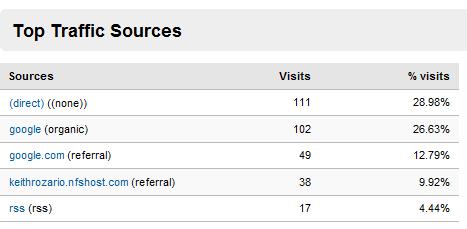 Obviously, even though I place a huge amount of social media stuff on my blog, the google search engine is really what's powering the hits over here. Not much coming from twitter or facebook or Digg. So most of my blog hits come from direct search results (or entry) and a rss feeds. Pretty straightforward, but social media a huge place for improvement, and I guess if I want to grow that I'm going to have to be more aggressive than just posting the occasional post on twitter.
So there you have it. A short monthly update on where my blog is, but also a good way to analyze data and see where my blog currently stands and try to figure out ways to improve my blog hits. Anyone got any suggestions, I'm open to anything.