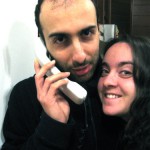 Even though you've got the social network icons on the menu bar, underneath every post and your email plastered all over the website. Sometimes it's worth it to have a contact form for visitors to contact you via the webpage. This means they don't have to login into facebook/twitter or their email to contact you. There are advantages of course, if someone stumbled across your page from an airport computer, they're less likely to logon to anything there but they'd be more than willing to send you an email via your contact form. Personally I receive a lot more messages from people via the contact form then on any social media. The old way still lives 🙂
So how to you do it? Just like everything else with WordPress, it's simple.
I downloaded the Contact Form 7 plugin and installed it. Once installed I activated it and placed this one very simple line of code in one of my pages and I get the following (it works by the way)
and that was that. Now you have a contact form on your website that sends an email directly to your email address (that I hoped you have already setup).
That was simple. Next install a good plugin to block out spam (Akismet would be good) and you're good to go :).