Let's be honest–Malaysians watch a lot of Porn.
On the outside, we may espouse our 'Asian' values and culture, but the cold-hard data suggest we're as horny as the Japanese. In one of my past post, I showed how we have evidence of someone using the Government internet connection to download porn.
Today however, PornMD the self-proclaimed "biggest porn search engine" released statistics as to what Malaysians were searching on their site. The results aren't that surprising, although I was quick shocked to see Tudung on there–apparently some people find it kinky.
Check out more on PornMD here, or head on over to this report from Quartz that explains how a lot of South-East Asians love Japanese Porn. While you may consider Malaysians vile for searching for terms like Tudung and Rape on a porn search engine–consider though that at least we're not Pakistan, whose users searched for a far more disgusting "Girls peeing on Bed"–WTF!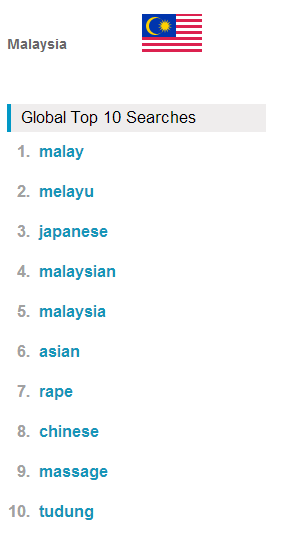 Correction: A previous version of this post stated that the most downloaded torrent in Malaysia was a piece of Hentai, however a reader named Darkon commented that although the downloaded file was named Hentai Ouji, it was merely regular Japanese Anime, which wasn't categorized as porn. Good one Darkon!