Do you know a Groupon Junkie?
It's those people that start and end everyday checking out what sort of 'deals' they can get online, the sort of people who'd buy completely unnecessary items purely because they were on sale. These people literally stalk websites like Groupon or livingsocial to see if they can get a iPhone powerbank for 40% off, or if the Japanese restaurant in Subang Jaya had a deal on Salmon Sashimi.
I was a Groupon Junkie once. I used to religiously subscribe to the mailing list of these group discount websites, and what I found was that I was actually spending more than I was saving. Sure I was trying out new places to eat, but in the end I felt I was spending a lot of money on things I never wanted in the first place–and the things that I actually wanted, were never on Groupon.
To me, the dream was always if I could get Groupon to pick out the items I actually wanted–rather than a random haphazard items that no one knew existed in the first place.
A friend of mine, might have stumbled upon the answer. You see Groupon is a random collection of deals–and the only thing that ties them together is that there's a deal on them. Visiting Groupon is like windows shopping at the 5 dollar store, sure you might find something useful, but most of the time you just bought yourself a bunch of nonsense just because it was on sale. The only thing in common the items in the 5 dollar store have–is that they're 5 dollars, other than that they range from cooking to gardening to stationary and even car care.
The solution to the problem is to have a specialized website. One that didn't sell everything under the sun, but a very specific niche offering, so that people don't feel they're in a 5 dollar store, but a store that was offering a deal on something they ACTUALLY wanted to buy.
But what sort of niche market would that be? What niche market is in high demand–but also would benefit from the concept of group buying.
Say it with me now people– THE PROPERTY MARKET!
It's a great idea, because not only are properties in high demand, Property buyers are looking for discounts (after all what buyers aren't), and from that came the idea of Propertyplus.
Introducing PropertyPlus
The simplest way to think of PropertyPlus is that it's the Groupon for properties–and only Properties.
Their website state that:
[box icon="chat"]PropertyPlus is a group buying portal that aggregates the buying power of individuals and creates the ultimate discount platform for property seekers. Our firm is advised by experienced & reputable individuals who help negotiate the best property deals for our buyers.
The recent strong economic growth in Malaysia has resulted in property prices touching an all time high in Malaysia, causing property prices to go beyond the affordability of most Malaysians. This is where PropertyPlus steps in as we intend to make real estate affordable through group buying deals.
The aggregation of buyers motivates Developers to offer discounts in view of the bulk sales. PropertyPlus is a win-win proposition because while consumers buy at lower prices, Developers are able to sell their inventory on a bulk basis.
In other words, they get the buyers for the developers, and these bulk purchases save the Developers money, and those savings are passed onto the buyer–you!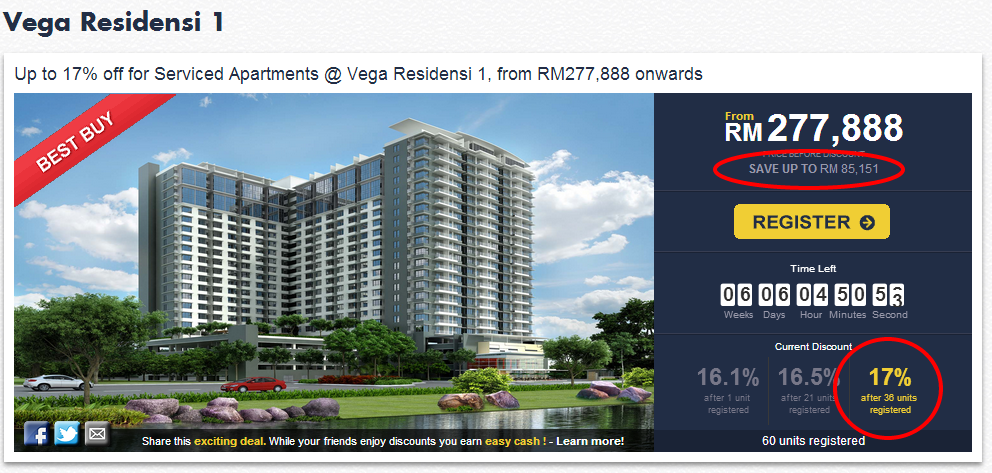 It's actually a really cool concept that offers significant percentage discounts, and as any house buyer knows, even small discount for property prices goes a long way. Take for example the current offer of nearly a 17% discount for Vega Residensi in Cyberjaya, with discounts of up to RM85,000 it reallt is no laughing matter. These are significant savings that go a long way to compensate for the rising cost of properties these days.
What else does PropertyPlus offer?
Besides the obvious discount and price factor, I think group buying has a significant advantage when it comes to properties. When you're purchasing a newly launched development or property, part of the risk is how the market perceives it, you don't want to be caught buying discounted properties, that were discounted primarily because demand was low, and nobody was buying.
Because group buying websites like PropertyPlus involve groups of people, it's easy to gauge just how popular (and in demand) a property is just by seeing how many people are lining up to buy it.
So a Property that has lots of buyer lining up to get in on it, reduces the risk that the buyer ends up buying 'left-overs'. The best thing is that the whole concept hinges on group buyers, just like Groupon, these deals don't go through unless a critical mass of people have registered to buy them. At it currently stands, Vega Residensi already has 60 buyers from just PropertyPlus alone.
Conclusion
PropertyPlus is a really cool concept that I think can really take off. More importantly though, if you're looking to snap up a house or condo at a significant discount, it's definitely the website to start off with.
You can visit them at www.propertyplus.com.my