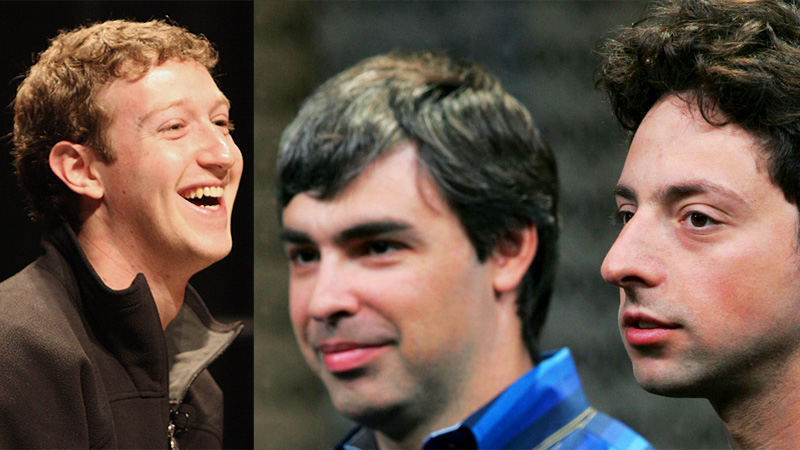 If Pakatan win the next election, I would recommend that they award the title of Tan Sri or at least Dato' to the following:
Larry Page and Sergey Brin:
Co-founders of Google, who own both the video sharing site Youtube, and the blogging service Blogger.com. Without these two free services the message from the opposition would not have reached so many Malaysians, so effectively in such a short time-span. 12 years ago, before broadband or Google, the opposition were forced to resort to pamphlets and flyers, most of which was ineffective and expensive. Without Larry and Sergey, the Opposition would have not technology to spread their message to the masses. Anwar and Co' owe more to the technology of Sergey and Larry than any amount of funds they may have obtained from any other party (foreign or domestic)
Mark Zuckerberg:
Founder of Facebook, the de-facto social network for Malaysian. Facebook is so famous even my mother uses it–and I recently received a friend invite from my mother-in-law!!
Facebook allowed the youtube videos and blog post from various opposition parties to be spread from friend to friend, without Facebook videos wouldn't have gone 'viral'. Together Facebook and Google were instrumental in allowing the opposition a platform to preach their good news in 2008–in 2013 they might just allow them to form a new government. 
Matt Mullenweg & The WordPress Foundation:
Matt is the creator of the blogging platform (and service) WordPress.
WordPress runs the blogs of many NGOs and even politicians–except Khairys. Even Prime Minister Najib Tun Razak's website runs on WordPress.
WordPress took the publishing of blogs, and made it into an open-source platform that anyone could use–and pretty soon everyone was using it. Without wordpress, blogs like Harris Ibrahim's The People's Parliament would not be possible (although he may have still launched ABU), in fact it remains to be seen how social activism would have evolved if WordPress hadn't made it easier for social activist to blog.
Jack Dorsey
Co-founder of Twitter, the micro-blogging platform that took the world by storm. Twitter allowed for politicians like Lim Kit Siang and many others to 'micro-blog' while on the road. This meant they could spread their message without sitting behind a computer screen writing long articles, but write short 'tweets' that could be spread virally in seconds. It also meant, that for the first time Politicians could actively engage the public while on the go.
Without twitter 83k people wouldn't be able to see where LKS was, or more than 1 million people wouldn't be able to see where Najib was (Although some of those followers are suspect)
Post-humous award to Steve Jobs:
Steve Jobs may no longer be with us, but his legacy will remain with us forever. The iPhone–the worlds first truly 'smart' phone, allowed for people to connect on the go. Without the smartphone, twitter wouldn't be possible and all the effects that twitter has had on our political landscape.
Conclusion
Anwar Ibrahim has changed the Malaysian political landscape–no doubt about it. Whether you support him or not, merely changes the fact on whether you accept it was good change or bad change, but everyone accepts that he's changed it.
These guys however,–Larry, Sergey, Matt, Jack and Steve–they changed the world!
It's quite clear if you want to change Malaysia, you'd want to join politics–but if you want to change the world–there's only one place to be…Technology!!
Stay Tuned for part 2.