[blackbirdpie url="https://twitter.com/DiGi_Telco/status/211447275891855361″]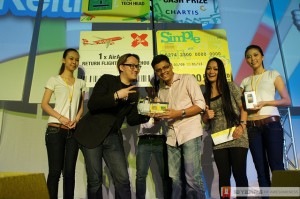 Exactly one month ago, I was honored to be awarded the DigiWWWOW awards Fave tech Head award. It was truly unexpected and I continue to feel grateful for it. For those of you who don't know what the DigiWWWOW awards is, it's basically like the Grammy Awards for Malaysian blogs, so instead of singers and producers being awarded gold statues, the DigiWWWOW awards present bloggers a cool looking glass plaque with our title on it. My award is currently sitting on my bookshelf between an Optimus Prime Model and a yellow Ferrari car.
Just like the grammys as well, there are many categories, 15 categories to be exact– quite substantial prizes, so it was pretty cool to receive one.
In my view the Fave Tech Head category is sort of like the Best Country and Western album at the Grammys, sure if means a lot to Country and Western fans, but quite frankly the rest of the world really don't care. Who cares about a tech blogger when we've got the most funny award or even the best food blog, if there's one thing Malaysians love more than anything else it's food. Technology, though pervasive in our country–particularly in rural Malaysia usually takes a back seat. An iPhone is the same as any other iPhone but Aunty Gemuks Char Kueh Teow is a one of a kind.
However, winning wasn't all rosy and peachy, and in fact it was a pretty interesting learning experience for me, and with the dust from the win now comfortably settled, I'd just like to share what I learnt from it. To be clear, this isn't a tutorial on how to win the award (to be honest I still don't know)–but sort of a reflection of what I learnt from my experience of winning.
You can't please everyone
Let's first talk about the elephant in the room, my win didn't sit well with a lot of people. This of course especially true for fans of the the other far more popular nominees, apparently they were upset their fave site didn't win it — two years in a row some more!!
[blackbirdpie url="https://twitter.com/derrickveejay/status/211447857151090690″]
A lot of the criticism was aimed not at me personally, but instead to the seemingly unknown status of my blog. The question on everybody's mind was, how does an unknown underdog blog, beat out websites who get 1000 times more hits (possibly even millions more).
The 2011 DigiWWWOW awards were done a bit differently. Last year the winner of the award was the blog with the most votes, and people were unhappy because spammers were winning the awards instead of the quality blogs. In fact, the blog that won the fave tech head last year isn't even around anymore. So I guess Digi took the wise step of not making this a voting only award, think about it, If the Grammys were awarded based on popularity, Justin Bieber would win everything–now nobody wants that to ever happen, not even the hardcore beliebers.
There in of course lies the conundrum, last year people were unhappy because it was a popularity contest and this year people are unhappy because the blog that won wasn't popular enough.
You can't please everyone, so no point trying.
That being said, the guys over at other blogs in the category were stand out guys, congratulating me both in person and online. Unfortunately, their fans weren't feeling the same way.
[blackbirdpie url="https://twitter.com/Piratz/status/211663965913223168″]
Have a consistent Brand
A lot of the criticism was with merit though. The first bit of criticism that I took was "I typed keiths and blog on google and couldn't find it". Now if you have a blog online, and your blog won a award and people can't even find you on Google, that raises a whole bunch of questions on whether you deserve to win the award in the first place. Particularly when the award was for something called "Fave Tech Head",and you can't find the Fave Tech Head on Google?? Sure boh he's the Fave Tech Head?
[blackbirdpie url="https://twitter.com/sha_munira/status/211449982195204098″]
So this is where I made a serious blunder!
My branding was inconsistent, the blog address is keithrozario.com, but the blogs name is keiths.blog that little bit of inconsistency is confusing. To make matters worse, Keith is a pretty common name, and hence keiths blog is a pretty common term, so I'm way down the pecking order in that respect. Do a search for google and I'm most probably on the 6th page. (maybe even further behind…)
I must admit, this is a god-damn rookie mistake and I deserve every bit of criticism I get.
From now on, I'm changing the banner to reflect keithrozario.com, and using keithrozario.com in all my communications including the the banner on the website, the signatures in the emails I send out and in all my contest entries.
To be honest, I was thinking of putting keithrozario.com as my entry name, but thought it was a bit too narcissistic, guess in branding –narcissism pays.
In order to win you have to show up
Just before submitting the entry I was contemplating whether it would be a wise decision to even enter the competition. I always had the blog under the radar, as my own personal thing I did in my own personal time.
Once I signed up, I was contemplating on how could I get the votes required to win. After all, I was an unknown blogger hitting way outside my league. So I wrote up a small post on the blog, dragged out the list of contacts of everyone who ever contacted me via the blog contact page and posted the entries up to both twitter and faceboook. Finally I sent a short email to all my personal friends asking them to vote for me– to many this was the first time they heard of me starting my own blog.
If I wanted to get the number of votes necessary, I was going to have to pull out all the stops, and I did.
Thinking back, if I didn't submit my blog entry, none of this would have happened. If I didn't send out those emails, I may not have gotten the right amount of entries to even qualify.
Upon further reflection, I've learnt, that the first rule of winning is first to actually show up to the competition. If you don't show up thinking you're going to lose–then you lose no matter what. If you show up, expecting to win, and working hard for it — then you WIN — no matter what.
And because of that, I now can type this blog post on my newly minted Alienware laptop!
Gratitude works
Overall though, regardless of everything else, award or no award, this blogging adventure has been a pretty good one. I'm fantastically grateful for all that I've been blessed, and taking stock of all that I have and all that I've achieved so far I must say– Life is Good.
Scratch that.
Life is AWESOME!!
Gratitude in all I do really does make me happier, you should give it a try.
Conclusion
So overall, I've learnt that :
1. You can't please everyone — so don't try.

2. Having a consistent brand is very important — applies to your personal brand as well.

3. In order to win you have to first show up — so show up and try hard everytime you want something.

4. Blogging is great — it's more than great. It's AMAZING!

5. Gratitude works — so be grateful for everything you have in life.
On the note of gratitude, I'd like to say Thank you to YOU!! Yes YOU , reading this blog now.
Thanks for stopping by, Thanks for adding the visitor count of the blog by a +1, Thanks for your support.
If you would leave a comment below, I would be even more grateful to you than I currently am. Thanks.