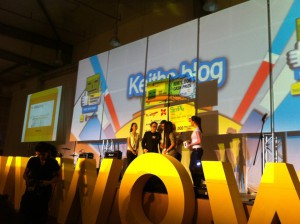 Some of you might have heard, but if you haven't then brace yourself– I won the #DigiWWWOW awards!! WOO HOO!!
I'm still trying to come to grips on how I manage to beat out competitors like Amanz,  MrPiratz.Com, Droid.my and of course Technology, Design,Inspiration. All of whom garner more hits than me, and are far more popular. Mr.Piratz was the first person to congratulate me in the backstage room.
I must admit though, I'm still trying to figure out how I won, I even got hold of the Lowyat rep to figure out what the judging criteria was–he didn't know. Right now, this is all feeling very surreal.
However, surrealistic feelings aside, I'm really really…REALLY happy I won. The award validates my past years work, and let's face it–this really kicks ass.
I'd like to thank all of those who voted for me in the first place and everyone whose ever commented on my blog, followed me on twitter, or sent me an email to just say 'hi'.
This blog has always been a sort of one man show, but as the saying goes, behind every successful man is a–WOMAN, I still wouldn't consider myself successful, but I definitely have a woman behind me, my wife has been with me for 2 awesome years (11 if you count the years before marriage), and she's supported me through all my crazy adventures including this one.
May this adventure never end!
Thanks everyone and goodnite.