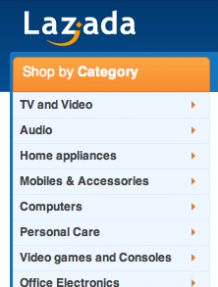 This blog is about Technology, but in these past few years it's become impossible to talk about technology without touching on the subjects of copyright and censorship. Very few people have a clear cut definition of what is acceptable copyright infringement and what isn't. Not too long ago I wrote about how a wordpress theme designer was being sued because he created a facebook theme, did you also know that facebook has already trademarked the term 'face' and is looking to trademark 'book' as well. Most readers of this blog know where I stand on copyrights, patents and intellectual property, where I draw the line however is trademark violations. A trademark is part of a brand, and usually trademark violations are a clear-cut attempt to fraud consumers by passing off a product or service as something it's not.
So what about business ideas and business models. Is it OK to make a clone of Facebook, and call it mukabuku– maybe. Is it OK to use the blue and white hues that we've come to associate only to Facebook– that's a bit uncomfortable as you may be tricking users to sign up for mukabuku by misleading them into believing mukabuku is a Facebook product. Well how about if you deploying mukabuku to a country that doesn't have Facebook?
So what about the Samwer brothers and their new online retail site Lazada, that was just launched in Malaysia? It's got all the hall marks of Amazon, is that OK?
The Samwer brothers are notorious throughout the world for taking an original business idea , deploy that business idea to a new country, and then sell the business back to the company that came up with the original idea. It's clearly something that strikes a raw nerve with many (particularly many so called 'innovators'), the  brothers (through their company Rocket Internet) blatantly copy a business model (and a brand)  in this case Amazon, then deploy to to a country where the brand doesn't exist yet, in this case Malaysia. The goal is not to keep the company running long term, but towards getting the ground work done to then sell it back to the original company for a profit.
That's not a very original business plan isn't it, to copy someone else business and then sell it back to them? But if it wasn't original, then why aren't others doing it or why aren't they doing it nearly as well?
The brothers latest creation is Lazada, a online retailer that looks like a complete Amazon rip off, right up to the quick 'swoosh' on the logo (Lazada have since changed their logo to incorporate a shopping cart instead). Clearly Amazon are doing many things right, and a lot of that is down its superb user interface and website design. You might not like the Amazon interface, you might not think that much of it, but many Interface designers including the great Steve Krug think Amazons interface is the best there is. The interface and design is straightforward, it's simple and it's primed to sell, and based on Amazons numbers it's selling quite well.
So what did the Samwer brothers do? Well they copied it of course, right down to the color combination. However, it's a complete copy — somethings aren't working as well as they should, but it doesn't take a rocket scientist to figure out that these guys copied Amazon.
I personally looked at some of the prices on the website, specifically for Silverstone computer cases, and found that indeed the prices were pretty good. I personally have no issue with the Samwer brothers copying Amazon, if anything I'd be urging them on to copy iTunes in Malaysia and follow that up with Hulu.
It's not without risk
Those who criticize the Samwer Brothers fail to understand that their venture isn't without its risk. Just because the Amazon model worked in the US doesn't mean that would translate to success for Lazada launching in Malaysia. The brothers have  invested a substantial amount in funding this venture and they're taking the risk (not Amazon), and so it goes that if they indeed sell a profitable (ironed-out) company to Amazon, they should do it at a profit because they took the risk.
These risk aren't just market risk, but local legal requirements and customer sentiment, there's a lot of variables that could make a break a venture and regardless of how good the Samwer brothers are every venture is with risk.
If it wasn't without risk, then why isn't Amazon launching in Malaysia? Is it because of cost? We're talking about a multi-billion dollar company here, this isn't about money. Amazon isn't sure if Malaysia is worth a try and to be honest its not clearcut if Lazada will catch on, but the Samwer Brothers are taking the risk, and if the risk works out they will be rewarded, if it doesn't, well then Amazon won't offer them a dime.  It also explains why local Malaysian companies weren't jumping at the opportunity to launch an Amazon clone themselves.
It's all about execution
Execution is another pretty word for getting shit done, and getting it done well. The Samwer brothers aren't the only guys cloning Groupon or Amazon, so why is it only their companies seem to be ones being bought up.
At the end of the day business ideas are a dime a dozen, the difference is in the execution. You can clone Amazon all you want, but if you executed it poorly, you'd be another has-been online retailer, and Amazon won't even bother buying you out.
The Samwer brothers have a proven track record of execution and that's good, so in a sense the Samwer brothers are laying the ground work for these companies, in this case Amazon. If the groundwork is executed well, and the company turns a profit, then Amazon would be buying a profitable company, with a proven business model and a business model that mimics its own core business. It's a match made in heaven, and that explains why these companies would rather pay top dollar rather than deploy the business themselves.
Think about it, why would Amazon sue the Samwer brothers for bringing in Lazada, first off Lazada is operating in countries that Amazon doesn't have presence in (it's not competing with Amazon), secondly the Samwer brothers aren't in it for the long run, they aim to sell. If I were Amazon, I'd rather have the Samwer brothers take the risk of the venture, deploy the company, sort out any and all local legal and fiscal issues, and then buy a profitable (nearly) risk free venture where all the variables of running the company long term are clearer. It's only fair at that point, that Amazon pay top dollar for Lazada. Similarly it's only fair that Amazon not bother with Lazada, should Lazada turn out to be another internet flop.
It's good for consumers
As a Malaysian consumer, whose bought books from Amazon, BookDepository and Betterworldbooks, I'm really happy to hear that finally we're going to have a fully fledged online retailer in Malaysia.
Critics of the Samwer brothers usually forget one thing, there are potential untapped markets for these business models, and these markets get filled sooner or later. For the consumers in these markets, we'd want it sooner rather than later.
So none of us in Malaysia are complaining that we're getting a copy-cat Amazon, as long as we get the right products at the right prices we'd be happy. The Samwer brothers are meeting a demand in Malaysia, whether they use a brand new GUI or rip one of Amazon really isn't a problem for us.
So what about Lazada?
Lazada has a pretty decent design, but it's not without it's flaws. For one thing, it might have copied Amazons color combination but the GUI still lacks clarity, that coupled with a limited number of goods means there's a lot to be desired. If I were to be totally honest, it looks like Lazada was a rushed job, and if you don't believe me check out what was listed as Video Games (click on the image to enlarge):

now I may not be the expert at video games, but I'm quite sure After School Diva and Classic Trance Anthems are not video games. Which begs the question, if you get the categorization wrong what else is there? It's the same as going to a supermarket and finding Maggie Mee in the dairy section. Sure its an obvious mistake, and sure no harm was done, but it just screams out RUSHED JOB!! (in big bold capital letters).
Also, one of Amazons advantages is it's nearly infinite product list, which means that for everything you look up in Amazon, you'd find at least 5 competitor items with ratings and prices all at your fingertips. That means you can make the comparison on the spot and buy it with Amazon one click (making it so easy to buy something does increase your sales).
At the end of the day, Lazada isn't really a copy-cat Amazon, it's not even in the same league here, but then again in terms of consumer spending power, Malaysia isn't in the same league as America.

There are some things Lazada does well. For instance it's an online retailer with a clearly spelt out return policy. Most non-Malaysians might find that normal, but in Malaysia that's a pretty big deal, and kudos to Lazada for executing that.
There's also the Cash on Delivery option, which is fantastic. While credit card penetration is high in urban Malaysia (nearly 90% of retail fuel transactions in the Klang Valley is done with credit cards), it's very low in rural Malaysia and offering cash on delivery means Lazada is also reaching out to those outside of the major cities.
Free delivery anywhere in Malaysia also says to me that Lazada have done their market research, Malaysia is a pretty big country (especially if you include Sabah and Sarawak), and having free delivery takes a lot out of the mental strain of paying for delivery. So all of these 3 things taken together could prove enough to make up for listing Elvis under the Video Games section.
Once again, we come back to the risk element, a lot of companies in Malaysia don't offer a cash on delivery option, they insist you pay in full before the product leaves the warehouse, Lazada is taking on a huge risk in its business model. It's also taking on risk by having it's drivers potentially drive around with thousands of ringgit in their car, that could be a huge security risk, and Lazada are taking that on. These are the kind of issues Lazada would have to resolve before they can even begin to think about selling, so they do add value.
I'd be very surprise if they don't tweak the business here and there over the coming months as more market information filters us through the business, and that's a good thing. At the end of the day, if everything goes well, and Lazada becomes profitable its just common business sense for the buyer to pay top dollar for an already running business.
Plus their also advertising on Google:

Conclusion
So are the Samwer brothers aren't exactly the slime of the earth, on the contrary I think they're bloody heroes, and if they bring in iTunes and Hulu to Malaysia, I'd personally erect a statue in their honor in my garden. These guys are bringing in 'old' business ideas, things that Americans have taken for granted , and deploying them to countries that have literally been craving for them. Where's the wrong in that?
However, while Lazada does offer a clear return policy, with a cash on delivery option and a free delivery throughout Malaysia, its website is not without its flaws. That being said, I'm pretty optimistic Lazada will take off, although I'd be surprised if it took off immeditately… I could be wrong.
So head on over to Lazada.com.my for your fix of online retailing, although be warned the interface isn't as smooth as Amazons and the products on offer are limited.