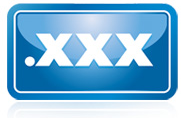 The first (of probably many) xxx domain hijacks have started springing up. Earlier today, a reader contacted me about a recent post I did on the .xxx domains. He mentioned that he spotted popebenedict.xxx in the wild and was curious if this was the first .xxx domain hijack. He maybe right, but in a post on his blog, he also mentions that while ICM registry doesn't find PopeBenedict.xxx a 'sacred' url, it thinks osamabinladen.xxx is sacred and should be blocked from registry. In fact a quick check on the domains reveals that osamabinladen.xxx is a "Domain that has been reserved from registration".
If you're curious, PopeBenedict.xxx leads to a page titled "Everyone will find Islam" and notes that the website is for sale — I suspect that sale would be to the highest bidder. The website further adds that it has a long list of other pope related urls, including josephratzinger.xxx (the popes real name) and holyfather.xxx. On a slightly off-tangent topic, I don't think anyone would be visiting josephratzinger.xxx to look for porn, but holyfather.xxx may have some promise (tongue firmly in check).
Now cyber squatters who've long blocked themselves out of finding anything useful in the .com Top Level Domain have shifted their attention elsewhere in the game, and it looks like the .xxx domains are next. Even with ICANNs seemingly strict policies around the release of the .xxx domains, it looks like this one slipped through. That being said they do allow to report abuse on the .xxx domains.
Of course the intent of the squatters is pretty clear, somehow in their mind placing a message about Islam on a url obviously referencing the head of the Catholic Church would get peoples attention. In reality I don't anyone really cares, it's obvious this is a ploy by some nut head who thinks he can make a quick buck.
XXX domains are one of the priciest on the net, going for roughly $70 – $100 dollars per domain per year, this guy must have laid down at least $2000 just to lock these domains and is probably looking at selling them for a quick profit. If I read the ICANN terms correctly that's not going to happen, since a simple report to ICANN would release the domain almost instantly and the guy would be $2000 short with no domains to speak of.
A quick whois of the url reveals the following: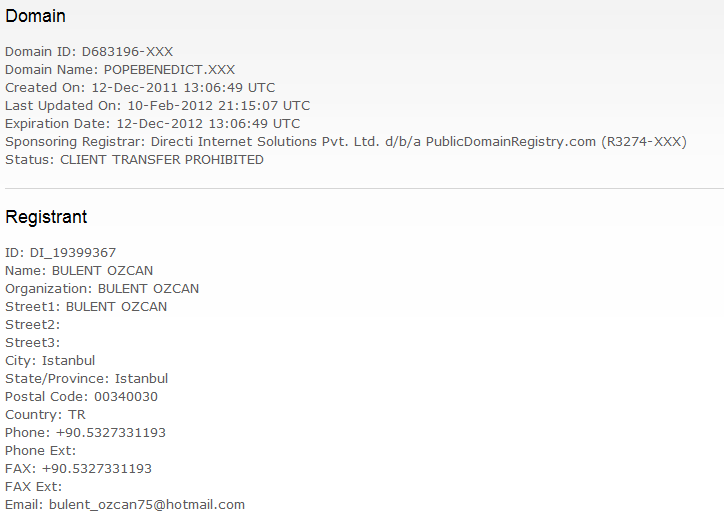 By the way, the Email address in the ICM registry, matches the email address on the webpage itself for contact information, the registration belongs to a Bulent Ozcan of Istanbul Turkey. If this guy is stupid enough to pull a stunt like this, he probably wasn't smart enough to change his phone number in case you want to drop him a call and ask him why he's doing this.
I've just reported the abuse to the ICM Registry just to see what they're take on this is. I'm curious how long it'll take to remove a .xxx domain, just in case anyone is thinking of coming up with keithrozario.xxx.
Thanks Robby for the tip.
How about you? Noticed any xxx domains being gulped up by cybersquatters?