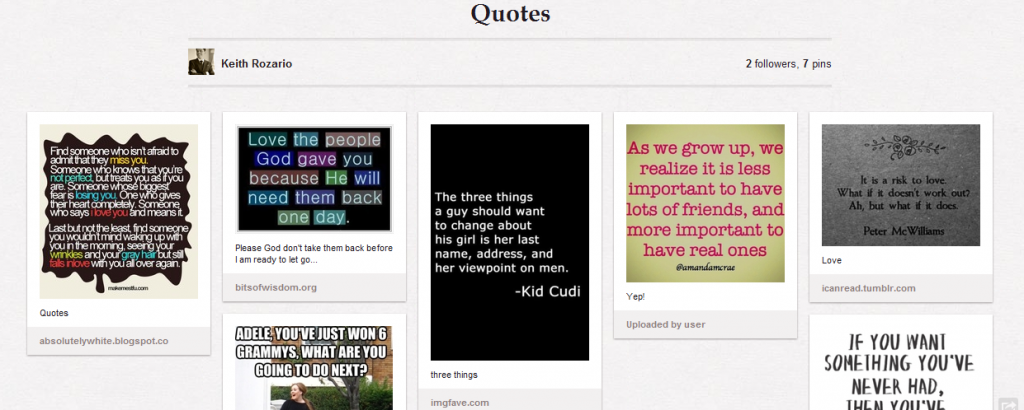 Pinterest is an awesome social site that let's you 'pin' up interesting articles on boards that other users can view and then continue sharing. It's absolutely amazing, and I'm in love with it. If you're still curious about what Pinterest is or want to snag an invite (it's still invite only btw), then just leave a comment at the bottom of this page and I'll send you an invite as soon as I can. If you don't know what Pinterest is, just head over a board I created from random quotes I saw from other users over here http://pinterest.com/keithrozario/quotes/.
Now if you're looking to integrate Pinterest with your wordpress blog, it's rather simple. Currently there's no real-good way of doing this as far as I can tell, there are a couple of ways you can add the pinterest button to your blog:
1) Via a modification to the footer.php file of your theme via [wpbeginner]
2) Via a modification to the functions.php file of your theme via [ahhh-design]
3) Installing a plugin via [pinterest plugin]
4) Just a change in your place in you theme you want the button to appear via [blogher]
As you may have noticed I now have a pinterest 'pin it' button at the top of each individual post and one at the bottom. They're not fully aligned at the moment, but I will fix them later. Unfortunately, for me I'm unable to use methods, 1,2, & 4. I guess my theme doesn't have thumbnail functionality yet, but 3 works.
Pinterest is a rather cool (and new) social network, that employs a more graphical interface than something like twitter, and I absolutely love it. However Pinterest is more about sharing articles, and cool photos, while twitter is more about sharing thoughts and news, so I guess they both can co-exist. I can't wait for it to be integrated with ifttt.com
So if you want a pinterest invite, just leave a comment below and I'll get it for you, and feel free to add the pinterest icons to your blog.