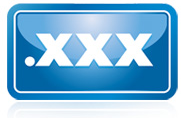 The internet Corporation for assigned Names and Numbers (more affectionately known as evil ICANN) has recently announced a new .xxx domain specifically for adult content online. Basically a safe place we can store porn on the internet away from our children. What's interesting though, is that a .xxx domain are by definition associated with pornography and smut, that certain corporations and even people would not want to be a part of. For instance, I'm quite sure everyone's lining up for www.BillClinton.xxx but Bill Clinton may not be too happy about it. So in light of this rather special domain name, comes a very special process that involves ensuring regular tax-paying adult content providers can bid for domain names they want, while allowing the rest of us to also work towards preventing others from getting our names tarnished with an .xxx post-fix.
So can we work on preventing my name from being associated with pornography?
Simple, ICANN has released the domain names in stages, namely Sunrise A, Sunrise B, Landrush and General Availability that work on addressing just that.
Sunrise A and Sunrise B run in parallel for the next 30 days or so.
In Sunrise A,  companies from within the Adult-Sponsored community get to bid on domains they desire. If the domain had only one bidder at the end of the period, that company wins the name. If the domain had multiple bids at the end of the period, then a closed auction between the applicants will ensue.
In Sunrise B, companies from outside the Adult-sponsored community get to work on 'ensuring their names aren't tarnished by a .xxx domain'. What that means essentially is that these companies can apply to prevent their names from ever being converted to a .xxx website for the next 10 years. The process isn't free but cost a rather tiny USD150 – USD 500, what's more interesting is that you have to be a registered trademark holder before you can apply for Sunrise B.
Now as Sunrise A and Sunrise B run in parallel, there is a slight possibility that a domain name will have multiple bids from both Sunrise A and Sunrise B applicants. In this case, the priority will be given to Sunrise A companies to obtain the domain, and "the applicant will be deemed on notice of the intellectual property claims submitted by the other Sunrise applicant(s) and may not claim lack of notice with regard to such applicant(s) in any subsequent dispute proceeding" which sounds like legal-jargon for "Don't say we didn't warn you".
The next phase is Landrush.
Landrush is similar to Sunrise A, but open to companies who didn't qualify for the Sunrise A entry. As to what companies qualify for Sunrise A I'm not too sure.
Finally there's General Availability
This is similar to what's going on for all other domains, so it basically translate to a free-for-all.
I find the process rather complicated, but in essence it allows some big name players to get first-dibs on the names, while the smaller players can get the left-overs. What's stopping a sunrise A applicant, from filling up 100,000 domains and selling them off one at a time to potential buyers?
Of course, I can't work on getting sunrise B for KeithRozario.xxx simply because it's not a trademark, and even then I can't fork out that kind of money…or can I? However, it remains to be seen if this process will work, and it could be the foundation for more interesting domain releases in the future.
news via Lifehacker and ICM registry.