For those of you who don't know, I host this blog on an awesome webhost called nearlyfreespeech. It's a different kind of webhost because it doesn't offer fixed price per month packages, but rather a pay-as-you-go model. Now what that means is that you can get your website fully operational for under 1 US dollar (and I'm not kidding), however as your blog grows and you utilize more space and use up more bandwidth you're probably wondering what kind of charges you'd be looking at, and whether it would be better off forking money for unlimited packages from the regular godaddy type host. The answer is NO. Here's my analysis on real-life data from my blog.
So first off a short update on my blog hits, in one word it's embarrassing, in two words it's very embarrassing. However, my personal feelings aside, I have a blog that garners about 380 hits/month, and here's the google analytics data to prove it.

So now you know what kind of traffic I garner, let's look at the size of my blog. My blog utilizes a theme has about 10 plugins and at least one picture for every post. I also imported my previous blogger content to this one so that's about 8 years of blog post (a total of about 200+ post). All in all, pretty standard stuff and a simple unix command tells me that my wordpress folder is a mere 53MB. Not surprising, most of the content is held up by the pictures, everything else is just text and doesn't take up too much space.
So you know I have 383hits/month @ 1 min 21 seconds per hit, and I use up 53MB per month. So what's the total cost to host this blog on nearlyfreespeech a month?
$3.60
Now $3.60 may not sound like the bargain of the century, but consider that this is a contractless pay as you go model, meaning you're not paying $3.60/month for 12 months, you can opt out anytime, and stop anytime without incurring further bandwidth, storage, or even MySQL charges. That's a fantastic amount and here's the breakdown:
WordPress needs a dynamic site, so that cost 0.01/day which means 0.30/month. So my current total is $0.30
WordPress needs a mysql process, so that's at a slightly higher 0.02/day which means 0.60/month, which brings the total to $0.90.
Finally I chose RespectMyPrivacy which mask my identity (I definitely recommend this) at another 0.01/day, which brings the final total to $1.20.
So assuming a month has 30 days, I spend $1.20 for a dynamic site, an MySQL process and RespectMyPrivacy every month regardless of whether I use my website or not
Now let's look at the bandwidth and storage. My site with all it's 383 hits/month (this is still embarrassing), averages about 43MB/day in bandwidth, round that up to 50MB/day and bandwidth usage comes up to 1.5GB/month. According to the pricing calculator the first 2GB on nearlyfreespeech comes up to $1.87. Now remember this is a very rough estimate, but we've erred on the side of caution, the reality is that the longer you use nearlyfreespeech the cheaper the price per GB becomes and I've rounded up the final value by 710MB. So we're pretty safe to assume bandwidth charges are at $1.87. Which brings our total to $3.07.
Finally there's storage, and nearlyfreespeech charges 0.01/MB per month. Which means my 53MB sites cost me 0.53 per month. Which brings my new total to $3.60
So there you have it, now the interesting thing is, that if my hits tripled next month, the total cost would be in the vicinity of $4.00-$5.00 /month. Still pretty cheap.
Now if you think you've got a website that can rake it 2000+ hits a month, then maybe you need to rethink your webhost, but from my experience it's difficult to get those numbers (trust me I'm trying very hard). My best advice is to always start small with no strings attached and that's what nearlyfreespeech allows you to do. Awesome hosting at  a bargain price.
Here's the final breakdown: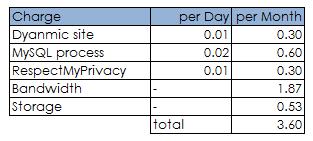 So there you have it , proof that you don't need millions to start a website, just 3.60, some elbow grease and a whole load of curiosity. Enjoy!!