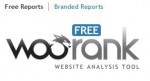 My blog just turned 2 months old today, and boy has it come far. I've been trying real hard to make at least 1 Post a day, but most of the time it's about 1 post every 2-3 days. It's still a lot better than my previous blog and I've learnt a lot from my mistakes. However, just how good is keithrozario.com?
According to GoogleAnalytics, which I installed shortly after I created the blog, I maxed out at 28 hits a day, with a monthly average of about 12-14 hits a day this week. Quite bad when you compare me to guys like sethgodin who gets almost 80,000 hits/month or Anilnetto (a Malaysian journalist) who averages almost 1 million/month.
However, I'm still pretty proud of myself. This blog went from zero hits/day to 14hits/day in 2 months, hopefully next month I'll average 30 hits/day, and at least hit the 1000 hits/month barrier at the end of the year. It's still a long way more, at 14 hits/day I'm just at  420hits/month. It'll take some time and a lot of posting, but doubling my traffic from what it is now is top priority for my blogging. (my other project jomlunch.com has to take a back seat).
So how do you increase traffic? Well that's for a separate post, right now it's more important to find out exactly hos much traffic is coming to your site.
Today the guys over at sixrevisions.com gave us 10 free webtools for busy professionals. It's a great article and I recommend you read it, however my favorite webtool from the list was WooRank, this absolutely amazing SEO reporting tool that let's you know just how good your blog really is. The reporting gives you details like the amount of hits/month, the amount of pages on your website, whether your images are fine, the HTML compliance of your site, etc etc.
Then it does something amazing, it then gives you a woorank score. The higher the score the better your website, my current score is 40.1, Anilnetto has a score of 67.6 and Seth Godin comes in at  58.4. Not bad at all.
Why don't you try out woorank and see what score your blog gets?