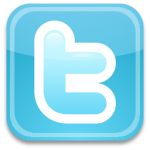 Nathan Yau, the guy over at Flowing Data (an amazing blog),  recently posted about a website called tweetolife that allowed you visualize tweets by either gender or by hours. So for instance a simple check on the word 'shopping' allows you to see what words were most associated with shopping on every tweet sectioned out by gender. For instance Men are more likely to tweet about shopping portals, or amazon or cash. While women are more likely to tweet about dresses or their parents (weird!). The data itself isn't complete but it does let you kill about 10 minutes of your time trying to figure out the twitter universe. I had a fun time looking at the differences between men and women, confirming my suspicions and creating doubt in some others.
For instance I took a chance and searched for the following: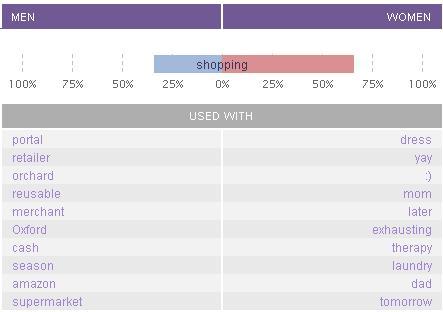 Speaks volumes of the gender difference. Men are more likely to tweet about places to shop, like a Shopping Portal (#1) or a Shopping Retailer (#2) or Amazon (#9). Women are more likely to tweet about the shopping experience itself like dress (#1), shopping with/for mom (#2) and therapy (#8)
A search for car yielded: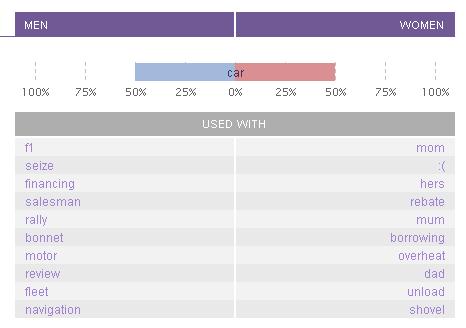 Suprisingly, mum/mom and dad appear on this list AGAIN!! What is it with women and their parents.
Finally a word that had dual meaning, in this case…coach: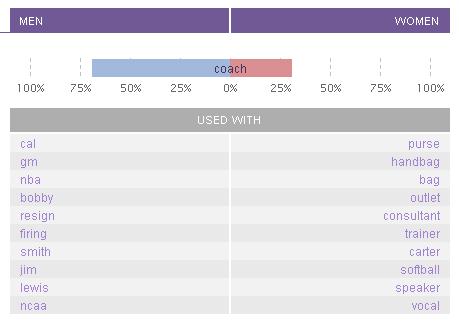 Not suprisingly, men were tweeting about sports (all 10 entries), women on the hand had a mixture of fashion (a testament to the popularity of the coach brand) , sports and even vocals.
What else can you find on the twitter universe? [Courtesy of the wonderful people @ FlowingData]