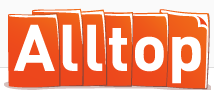 A lot of my blogs are tech-centric with a focus on web 2.0 technology. However, this decision to start this 'new' blog and abandon my old political slanted blogger blog was in part due to a book I read by Guy Kawasaki. Guy seems to be of the opinion that good is good enough, and if you're going to do something…do something first, and then improve it as you go along.
In that spirit of doing first and improving along the way, I started www.keithrozario.com, which is the blog you're reading right now. I'm absolutely loving blogging about tech and it's an inner passion I should have pursued much much earlier in life.
Guy Kawasaki, that same entrepreneurial guru that partly inspired this blog also began a site called truemors, which is sort of like Digg for rumours. The concept of truemors isn't as interesting as the story behind truemors. Guy started truemors without writing a business plan, without getting VC funding and most importantly he started Truemors for under USD13k. That's phenomenal, in creating truemors, Guy Kawasaki proved we're in an age where all you need is a bit of elbow grease, a whole lot of passion and a truck load of hard work to get a tech company of the ground and working.
But enough small talk.
The core content of this post, the reason why I'm beaming with a smile today is I've just been accepted to be listed on Alltop. AllTop is a blog directory run by Guy Kawasaki (who else?), and I recently submitted my blog to be registered on their website. Yesterday I received a reply from them stating that I've been accepted and my blog should be on their listing within the next day or so.
Here's that email in all it's glory: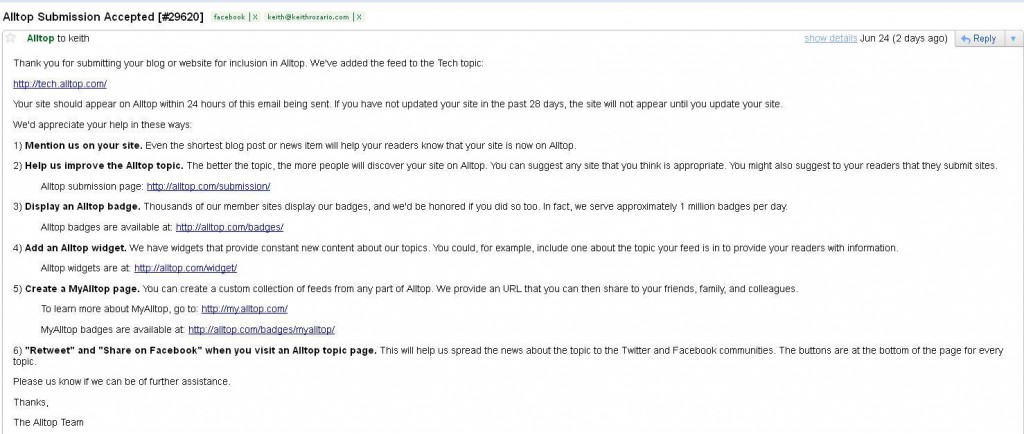 AWESOME!
Blog directories is a self-explanatory term, it's a directory of blogs. Certain directories have high standard and provide some form of aggregating (like AllTop), other blog directories have much lower standards and will dump any garbage blog into their directory. Most Blog directories however, insist you place a little advert of their blog directory on your site before you can be registered. In fact, I found this to be true for most of them, and some blog directories have paid-listings. What that means is you pay a certain amount for your blog to be posted on the directory. Absolute hogwash. Forget about those directories.
The blog directory is still relevant today as it was before Google, blog directories with standards, filter out the noise you'll usually get from a search engine. Think of those ultra-SEO heavy websites that have absolutely no content, blog directories help overcome that problem. In a way, google complements blog directories rather than replacing them, you'll head over to google if you have something specific in mind, like "How do I fix the database issue in WordPress?" but you'll head over to a blog-directory to find out interesting blogs about wordpress in general. So yes, Blog Directories like AllTop are still needed.
So if you see me today with a beaming smile across my face, you'll know why. I'm hoping to track how many hits actually come out through alltop for a post next week.
I initially had some issues posting my blog to Alltop, apparently the submissions told me my RSS feed wasn't valid. Then I changed the feed settings from the regular RSS feed to the Atom feed. You can check the feed settings by viewing the page source of your WordPress page and choose the one that looks something like this:
That sorted out my problem.
Tomorrow I'm gonna post an Alltop badge on my site, and the reason I'm doing that is because they didn't force me to post it.