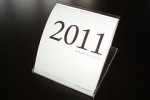 Google just added appointment slots to their online Calendar in their quest to successfully emulate MS Outlook on the cloud. Quite frankly, Googles getting pretty good, I can organize my whole life online and now with appointment slots I can allow people to book my time online, just like they would do with a MS Outlook Meeting Request.
For those of us who miss the good ol' days of pen and paper though (like me!!), there's a spectacular app that does just the calendar bit and nothing else. It's call coolendar and it's really cool (pardon the lame pun)
The first thing I love about Coolendar...it's syntax. Just type in
13/06/2011 23h call Keith
And it appears as:


Coolendar actually figured out that I had entered a date and time and stored the data accordingly. Basically it's a text based entry calendar I can input in on the fly. Since, I can type faster than I can move my mouse or touchpad, this allows me to enter in data far quicker then I would if I had to click the slots and type the description in. I love it. If you're worried about the date entry, don't. I tried both in mm/dd/yy format (as it's entered in America) and the dd/mm/yy format (as it's entered everywhere else) and they both work!
The next great thing is the filtering you can do, you can filter the task by this day, this week and this month. You can also modify entries, change the time or description on the fly from within the same page. Finally you can mark it as done and Coolendar will even save those task in a separate list creatively called 'done'. You can also highlight certain task for easier reference (with the red dot feature) and if you've got too many task to look at, there's a search feature to preserve your sanity.
The best thing about Coolendar is also what it doesn't do. It doesn't bog you down with features you hardly use, thereby allowing the app to have a clean interface. It uses Google accounts for login credentials, so you don't need to create a separate account  and just log in with your google credentials. Apparently the Google Account login (as opposed to a facebook login) allows you to send reminders via Google Talk. Mind Blowing feature if you ask me, though I haven't tested it yet.
Initially I was upset that the site didn't have a built-in calendar for visualization, but then I realized something absolutely amazing. Coolendar will actually sync with your Google Calendar. So you can export all your calendar entries in Coolendar to be visualized as part of your Google Calendar. Unfortunately, I couldn't get it to sync backwards (updates in google to be reflected in Coolendar) which was a letdown. Syncing also works for MS Outlook.
Coolendar is a simple, quick to use, wonderfully designed app. However, if you're hoping for more feature rich calendar features you'd find it lacking. If you're like me though, you'd love the design, the quick and easy interface, it's ability to sync with google and outlook just the perfect blend between features and user-friendliness. Good job guys, keep it up.
Visit them at www.coolendar.com
Thanks to guys over @ workawesome for introducing me to coolendar. They also have 4 other productivity tools that you may be interested in over at this post.