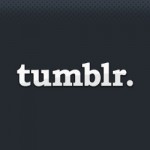 I'm a bit slow to new platforms, (I've just discovered wordpress early last month), but in the battle supremo of the 3 most popular blogging platforms out there, Tumblr does have it's advantages, and they're quite many.
Tumblr is (in my view), a new way of blogging. It integrates well with facebook and twitter and allows users to post individual items separately. So you have a GREAT user interface, that is customized so that you can post photos/videos/audios as separate post.
A 'normal' post is treated as text. It integrates the usual like buttons on the Tumblr network, and registration is nothing more the 3 steps, fill in your name/email and desired URL. The whole website is beautifully designed. Seriously folks, if you're new to blogging, don't go to blogger, head on over to Tumblr.
You can check out my experimental tumblr blog here.
So in the greater scheme of things, if you're new to blogging or don't want to get involved with the technical specs of a blog, head on over to Tumblr. If you're a more hands on techie and want to integrate more plugins into your blog, then powering you blog with wordpress is still the best answer. At the moment, I can't think of any reason why you'd want to host on blogger.