About 2 years ago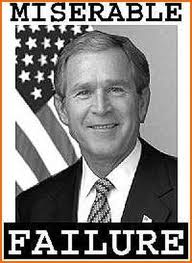 if you typed "miserable failure" on Google the first listed webpage would be the wikipedia entry for President George W. Bush, apparently a few guys found out how Google ranks their pages and decided (with a little help from friends) to push up the GWBs Wikipedia page for the search entry "miserable failure". Google has since changed it's algorithm to prevent a few kiddie hackers from being able to control the page ranks of sites which have dire consequences of a pages visibility online.
I wonder if we could get miserable failure to point to the Tricubes website instead.
Tricubes is in the news again, this time for a 'typo'. Apparently the public listed company that was awarded the 1Malaysia email program and was also appointed the traffic fines collection agent by the police last month, can't get their annual report in order. You would think that if there is just one document a public listed company would get absolutely correct it would be it's financial report, Tricubes however is bucking the trend and inserting typos in their Annual Reportin what could be the shrewdest move ever to gain public attention. It's probably a good thing, considering the 'surprisingly low' take up rate for the 1Malaysia email project. Tricubes aimed to get 5.4million email accounts, but according to the Malaysian Insider " has so far only managed to register several thousand, most of whom were ported over from trial accounts". This typo could be a cunning but ingenious ploy to get Malaysian more aware of the project, or it could be a error by a company that isn't well run. Either way, there's no such thing as bad publicity right? (sarcasm level at an all-year high).